NoHo 7
5240 Lankershim Blvd. | MAP
North Hollywood, CA 91601
310-478-3836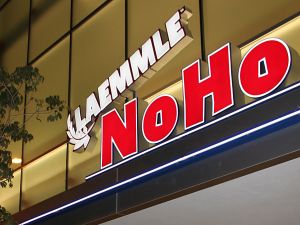 Parking

- Parking lot is located at 11144 Weddington St. (one block North of the theatre) on the south side of the street.
THE LOT IS ALSO LABELED "5250 PARKING".

- Cost is $2.25 for 3.5 hours with a theatre validation and $1.75 each 15 minutes thereafter.
TOPICS
Frequently Asked Questions
Theater History
The Laemmle NoHo 7 Theatre opened on Wednesday, December 21, 2011 in the newly revitalized North Hollywood Arts district. The venue features stadium-style auditoriums, comfortable rocker seats with extra leg room, state-of-the-art digital projection and wall-to-wall screens.  Also, a first for Laemmle Theatres, the box office is inside the lobby so patrons can order tickets in comfort, protected from the elements. The METRO Red Line brings you within two blocks of the NoHo 7 and with dozens of dining options within walking distance, it's a great destination for dinner and a movie! If you haven't been to North Hollywood lately, it's worth the trip.
Discounts*
For a full list of Laemmle Discount Programs, click here
Disability Services
• Complimentary assistive listening devices available at the box office. A driver's license or state ID is required as deposit.
• Disabled seating and accessible restrooms are available.
Location
5240 Lankershim Blvd.
North Hollywood, CA 91601 |
Map
(310) 478-3836
Directions
The theater is located on Lankershim Blvd. between Magnolia and Chandler.  From the 101 Freeway (heading North), the the Tujunga exit.  Make a right on Tujunga to Magnolia blvd.  Make a right on Magnolia and then left on Lankershim.  Theatre will be on your right.  From the 134 Freeway (heading West) take the Lankershim exit and turn right (North).  Theatre will be just past Magnolia on right side of the street.
Parking
Parking structure is located at 11144 Weddington St. next to the Art Institute. NOTE: THE LOT IS ALSO LABELED "5250 PARKING").  With a Laemmle validation, parking is $2 for 3.5 hours and $1.25 ea. 15 minutes thereafter.