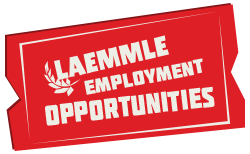 Jobs
One of Us, One of Us!
Laemmle is on the lookout for hardworking, dedicated individuals. We hire at the entry level, but promotions can come quickly. Since our busiest times are weekends and holidays, this job is perfect if you're looking for a flexible part-time job around school or a full time job. Not all of our theaters are actively hiring, but we are looking to expand our pool of applicants.
Download the Laemmle Theatres Employment Application.(PDF) fill it out, then bring it to the theater of your choice or email it to jobs@laemmle.com.