Group Rate
Bring your group to the movies for less!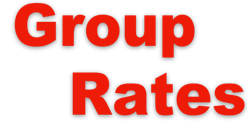 Discounted Rates for groups.
Groups may qualify to purchase tickets at a discounted rate. To see if your group qualifies, fill out our online request form.  If your group is more than 100, please call our office at 310-478-1041 to check availability.
How:
Print out e-mail confirmation and bring it to the box office before show time.
Pay for tickets at the Box Office.
Discounted rate subject to approval. The discounted rate is not available for some films (Special Engagements and Rentals).  
All requests need to be made at least two business days prior to the screening in question.
Your exact discount rate will be listed on the approval email.  Groups of more than 100 must call first to check availability.