Glendale
207 N. Maryland Ave. | MAP
Glendale, CA 91206
310-478-3836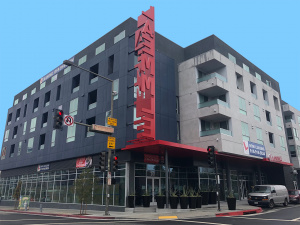 Directions
The theater is located on the northwest corner of Maryland and Wilson avenues one block east of Brand. From the 134 freeway, exit Brand Ave., then head south on Brand and make a left on Wilson Ave. The theater will be on your left.
Parking
Paid parking is available at City Lots 3 & 4 approximately a half block north of the theater. There is metered street parking on Wilson Avenue and other surrounding streets. Please read all posted signs. The Exchange Parking Garage is located on Wilson Ave. just south of the theater
TOPICS
Frequently Asked Questions
Ticket Prices
(For all films except special engagements, series, festivals & screenings): 
Laemmle Premiere Card holders get $3 off every ticket (except Senior Weekday and Student Sunday tickets), 20% of concessions, and more. Click here for details.
Friday, Saturday, Sunday and Holidays:
Adult General Admission : $14.00
Child 11 & Under : $11.00
Senior 62 & Over : $11.00 
Bargain Price* : $11.00 (for films that start prior to 2pm)
Monday-Thursday:
Adult General Admission : $12.50
Child 11 & Under : $9.50 
Senior 62 & Over : $9.50
Bargain Price* : $9.50 (for films that start prior to 6pm)
Senior Weekdays (62 & Over) :
Mon - Fri for films that start before 6pm: $6
Morning Shows:
For films that start before Noon: $9
Student Sundays:
For films that start after 6pm, with Current Student ID: $9
Culture Vulture Series:
Monday:
Adult General Admission : $16.00
Senior 62 & Over / Child 11 & Under : $13.00
Tuesday Encore:
Adult General Admission : $12.00
Senior 62 & Over / Child 11 & Under : $9.00
Anniversary Classics Series:
All Tickets: $14.00
*SPECIAL ENGAGEMENT (SE) or NON-STANDARD PRICING (NSP): denotes a special engagement, please contact the theatre for pricing