Winner
Best Feature
Annecy International Animated Film Festival
It's an energetic, frequently hilarious, always visually riveting ride.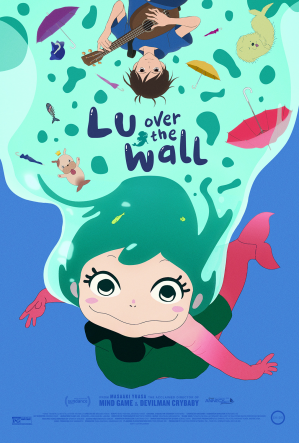 Spread the word about this film!
NO LONGER PLAYING
Lu Over the Wall
From visionary anime auteur Masaaki Yuasa, comes a joyously hallucinogenic but family-friendly take on the classic fairy tale about a little mermaid who comes ashore to join a middle-school rock band and propel them to fame. Kai is talented but adrift, spending his days sulking in a small fishing village after his family moves from Tokyo. His only joy is uploading songs he writes to the internet. When his classmates invite him to play keyboard in their band, their practice sessions bring an unexpected guest: Lu, a young mermaid whose fins turn to feet when she hears the beats, and whose singing causes humans to compulsively dance - whether they want to or not. As Kai spends more time with Lu, he finds he is able to tell her what he is really thinking, and a bond begins to form. But since ancient times, the people in the village have believed that mermaids bring disaster and soon there is trouble between Lu and the townspeople, putting the town in grave danger. Winner of the Grand Prize at the prestigious Annecy Animation Festival, and premiering in English as an official selection of Sundance 2018, Lu over the wall is a toe-tapping, feel-good demonstration of Yuasa's genre-mixing mastery that will leave you humming long after you leave the theater.

All screenings will be in English except for the daily 9:55 PM screenings, which will be in Japanese with English subtitles.

Runtime:
107 min
Language:
English
Awards:
Winner, Best Feature, Annecy International Animated Film Festival
FEATURED REVIEW: Derek Smith, Slant Magazine
Masaaki Yuasa's 'Lu Over the Wall' employs a wide array of animation styles as it spins a fantastical yarn about a potentially vicious group of mermaids and the small fishing village that lives in constant fear of them. Fluctuating between the pastel-like strokes of Hayao Miyazaki's ...