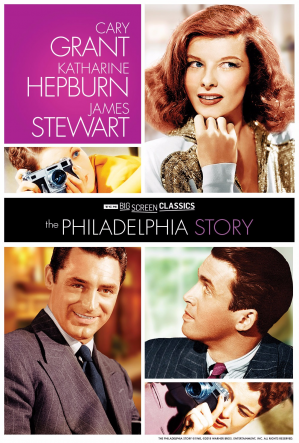 Spread the word about this film!
COMING SOON OPENS TOMORROW! WEDNESDAY FEB. 21
The Philadelphia Story
Part of the TCM Big Screen Classics series.
Click here for more screenings in this series.
THE PHILADELPHIA STORY (1940)
Sunday, February 18th, at 7PM and Wednesday, February 21st, at 2PM


On the eve of Tracy Samantha Lord's (Hepburn) wedding, her blue-blood ex-husband, C.K. Dexter Haven (Grant), returns. C.K. discovered that a national tabloid plans to do an expose on Tracy's philandering father and has agreed to smuggle a reporter (James Stewart) into her wedding if the magazine kills the story on the elder Lord. But C.K. never expects that the woman he still loves will suddenly fall for the undercover reporter. Now, before the evening is over, Tracy will be forced to take an unflinching look at herself and to realize which of these three men she truly loves.

This two-day event includes exclusive insight from TCM host Ben Mankiewicz.


Genre: Comedy, Repertory, Romance, TCM Big Screen Classics
Runtime: 112 min
Language: English

Director: George Cukor
Cast: Cary Grant, James Stewart, Katharine Hepburn
Get Tickets
Click a
BLUE SHOWTIME
to purchase tickets
Note:
There were no showtimes for Tue, Feb 20th, so instead we're showing you showtimes for the next available date on Wed, Feb 21st.