The depressing drama is pleasantly spiked with moments of black humor and wish fulfillment.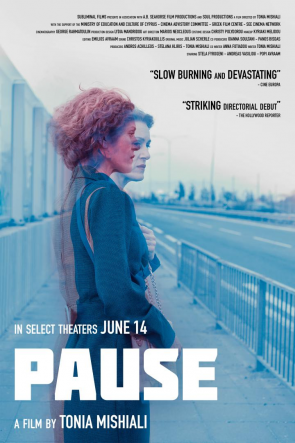 Spread the word about this film!
NOW PLAYING
Pause
Elpida, a middle-aged housewife, is tormented by an oppressive and loveless marriage with a man who no longer considers her feelings and desires. When a young painter is employed to paint the building she lives in, Elpida's monotonous life is surreptitiously disrupted and her imagination starts to flourish as she attempts to reconcile the unquenchable desires of her body with the stern coldness of the husband she no longer loves. Losing herself deeper and deeper in the fantasies that she now prefers to her actual life, Elpida's perception of reality is called into question and the truth begins to fade away.
Web Site:
https://www.sublim...
Runtime:
88 min
Language:
Greek
FEATURED REVIEW: Boyd Van Hoeij, Hollywood Reporter
A Cypriot hausfrau hitting menopause finds that she's had enough of the macho ways of her boorish husband in Pause (Pafsi), the striking directorial debut from writer-director Tonia Mishiali. Though the subject is a largely familiar one, this is a work of considerable tonal com...
Get Tickets
Click a
BLUE SHOWTIME
to purchase tickets