A dark and frightening experience unlike anything ever filmed…builds up an atmosphere of dread you can taste in your throat.
--Paul D. Zimmerman, Newsweek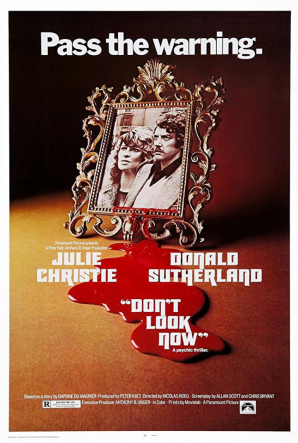 Spread the word about this film!
COMING SOON OPENS IN 7 DAYS, DECEMBER 18
Don't Look Now
Part of our Anniversary Classics series. For details, visit: laemmle.com/ac.
DON'T LOOK NOW (1973)
45th Anniversary Screening
Tuesday, December 18, at 7:30 PM
Ahrya Fine Arts Theatre

Laemmle Theatres and the Anniversary Classics Series present a tribute to director Nicolas Roeg with a screening of his eerie, atmospheric thriller, 'Don't Look Now.' Roeg, who began as a master cinematographer, had a distinctive visual style that received perhaps its most brilliant expression in this suspenseful film adapted from a story by Daphne Du Maurier, the author of 'Rebecca.' Screenwriters Allan Scott and Chris Bryant retained the basic premise of the story but embellished and expanded it under Roeg's guidance.

Julie Christie and Donald Sutherland play a married couple whose young daughter drowns in the movie's opening scene. A few months later, they are in Venice, where Sutherland is working to restore an old church. But they are still grief-stricken and traumatized, and when they meet two elderly sisters who claim to be able to communicate with their dead daughter, the couple embark on a supernatural journey that takes them in unexpected directions. Christie finds comfort in the sisters' message, while Sutherland is more skeptical, though it turns out he has clairvoyant gifts that he tries to suppress.

Set in the gray of winter, the film avoids the usual Venice tourist spots and instead creates an indelible vision of a labyrinthine city cloaked in shadows and sinister portents, as a murderer also haunts the canals and byways and threatens the lives of the two lead characters. Roeg's fractured editing style adds to the unsettling nature of the film, but this editing also contributes to one of the most famous interludes in the film, a lovemaking scene between Christie and Sutherland that has been called one of the most erotic and influential in cinema history. Anthony Richmond was the film's cinematographer, Graeme Clifford was the editor, and Pino Donaggio composed the evocative score.

Pauline Kael had high praise for the performances: "Julie Christie and Donald Sutherland team up wonderfully."
Newsweek
's Paul D. Zimmerman called the film "a dark and frightening experience unlike anything ever filmed…Roeg, a masterly technician, builds up an atmosphere of dread you can taste in your throat."
TIME
magazine's Jay Cocks agreed, writing "this is a film of deep terrors and troubling insights—one that works a spell of continual, mounting anxiety," and he concluded, "Roeg's is one of those rare talents that can effect a new way of seeing."

Roeg oversaw some of the astonishing second unit photography in 'Lawrence of Arabia' before graduating to cinematographer of such films as 'Fahrenheit 451,' 'Far from the Madding Crowd,' and 'Petulia' (all starring Christie). He made his directing debut (sharing credit with screenwriter Donald Cammell) on the Mick Jagger film 'Performance.' His other memorable films include 'Walkabout,' 'The Man Who Fell to Earth' with David Bowie, and 'Bad Timing,' which teamed Art Garfunkel with Theresa Russell, the actress who became Roeg's wife and the star of many of his late films. The director's nonlinear storytelling and visual acuity had a tremendous influence on other directors, including Danny Boyle, Steven Soderbergh, and Martin McDonagh, who have all paid tribute to Roeg's gifts.

Format: Blu-ray

Genre: Anniversary Classics
Runtime: 110 min
Language: English
Get Tickets
Click a
BLUE SHOWTIME
to purchase tickets
Note:
There were no showtimes for Tue, Dec 11th, so instead we're showing you showtimes for the next available date on Tue, Dec 18th.