This Just In...
HALE COUNTY THIS MORNING, THIS EVENING filmmaker RaMell Ross will participate in Q&A's Friday evening and Saturday evening at the Monica Film Center and late Saturday afternoon at the Playhouse. Exact showtimes TBD.
Pure cinematic poetry... poses a quietly radical challenge to assumptions about race, class and the aesthetics of filmmaking.
--A.O. Scott, New York Times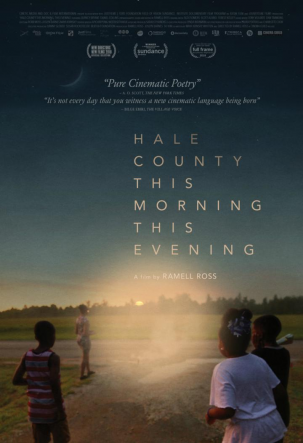 Spread the word about this film!
COMING SOON OPENS IN 2 DAYS, FRIDAY SEP. 21
Hale County This Morning, This Evening
An inspired and intimate portrait of a place and its people, 'Hale County This Morning, This Evening' looks at the lives of Daniel Collins and Quincy Bryant, two young African American men from rural Hale County, Alabama over the course of five years. Collins attends college in search of opportunity while Bryant becomes a father to an energetic son. The filmmaker uses an open-ended, poetic form that privileges the patiently observed interstices of their lives. The audience is invited to experience the mundane and monumental, birth and death, the quotidian and the sublime. These moments combine to communicate the region's deep culture and provide glimpses of the complex ways the African American community's collective image is integrated into America's visual imagination.

In his directorial debut, award-winning photographer and director RaMell Ross offers a refreshingly direct approach to documentary that fills in the gaps between individual black male icons. 'Hale County This Morning, This Evening' allows the viewer an emotive impression of the Historic South, trumpeting the beauty of life and consequences of the social construction of race, while simultaneously offering a testament to dreaming despite the odds.

"It's not every day that you witness a new cinematic language being born... Hale County traverses years, encompasses tragedy and beauty, all in just 76 minutes." - Bilge Ebiri, The Village Voice

"Void of the traditional struggle on which documentaries about the black experience often center, Hale County ruptures conventional—and often stereotypical—depictions of black people to create an experience that is simple, complex and revelatory." - Tre'vell Anderson, The Los Angeles Times

"Visual poetry." - Keith Uhlich, The Hollywood Reporter

"One of the best documentaries of 2018... It must be seen on the big screen... Hale County This Morning, This Evening emerges sweeping and grand, an elusive, awesome American fable." - Andy Crump, Paste Magazine

"Hale County This Morning, This Evening is a major work, and a richly rewarding one... the sort of film for which the word 'lyrical' was invented." — Alissa Wilkinson, Vox

Runtime: 76 min
Language: English
FEATURED REVIEW: Bilge Ebiri, Village Voice
It's not every day that you witness a new cinematic language being born, but watching RaMell Ross's evocatively titled documentary 'Hale County, This Morning, This Evening' qualifies. The director, a photographer and teacher who was coaching basketball in the middle of th...
Get Tickets
Click a
BLUE SHOWTIME
to purchase tickets
Note:
There were no showtimes for Wed, Sep 19th, so instead we're showing you showtimes for the next available date on Fri, Sep 21st.