This Just In...
KING COHEN subject-star Larry Cohen and director Steve Mitchell will participate in Q&A's at the Fine Arts screenings on Friday and Saturday, July 20 and 21, at the NoHo screening on Monday, July 23, and at the Monica Film Center screening on Thursday, July 26. Actor-interviewee Laurene Landon will join them for the Friday screening. Filmmaker-interviewee Mick Garris and screenwriter-interviewee David J. Schow will join them for the Monday screening.
If you love distinctive genre cinema, this is 105 minutes well spent in the company of talented people who love it just as much as you do.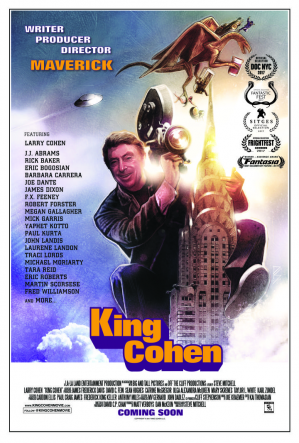 Spread the word about this film!
NOW PLAYING
King Cohen
Buckle up for KING COHEN, the true story of writer, producer, director, creator and all-around maverick, Larry Cohen (
Black Caesar
,
It's Alive
,
Q: The Winged Serpent
,
The Stuff
). Told through compelling live interviews, stills and film/TV clips, the people who helped fulfill his vision, and industry icons such as Martin Scorsese, J.J. Abrams, John Landis, Michael Moriarty, Fred Williamson, Joe Dante, Yaphet Kotto, Laurene Landon and many more, including Larry himself, bring one-of-a-kind insight into the work, process and legacy of a true American film auteur. Few can boast of a career as remarkable or prolific, spanning more than 50 years of entertaining audiences worldwide.



Runtime: 110 min
Language: English
FEATURED REVIEW: Jacob Knight,Birth.Movies.Death.
Larry Cohen is a genius, a lo-fi wizard who's produced a few movies you've probably seen before. Pictures like 'It's Alive' ('74), 'Q: The Winged Serpent' ('82), and 'The Stuff' ('85) wormed their way into horror and exploitation hounds' brai...
Get Tickets
Click a
BLUE SHOWTIME
to purchase tickets