This Just In...
ANTONIO 1970: SEX FASHION & DISCO director James Crump will participate in Q&A with model Corey Tippin and Artist/Head of the Lopez estate Paul Caranicas after the 7:30 PM show at the Royal on Friday 9/21.
The Picasso of fashion is given his deserving due in this irresistibly seductive documentary, chronicling his inspirational -- and very wild -- life.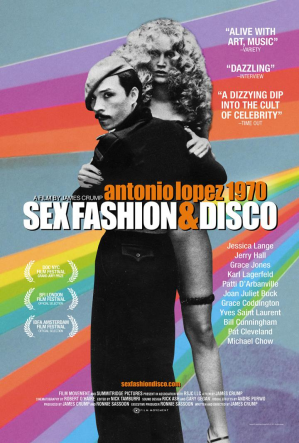 Spread the word about this film!
COMING SOON OPENS IN 2 DAYS, FRIDAY SEP. 21
Antonio Lopez 1970: Sex, Fashion & Disco
Antonio Lopez 1970: Sex Fashion & Disco
is a vibrant time capsule of the decadent world of '70s haute couture as viewed through the eyes of Antonio Lopez, the dominant fashion illustrator of the era whose distinctive drawings graced the pages of
Vogue
and
Elle
. A Puerto Rican native raised in the Bronx, Antonio was a seductive arbiter of style and glamour who brought urban street elements to a postwar fashion world desperate for change and diversity.

Counted among Antonio's discoveries were iconic beauties such as Grace Jones, Jessica Lange and Jerry Hall. Antonio's inner circle was also comprised of celebrated photographer Bill Cunningham and rival designers Karl Lagerfeld and Yves Saint-Laurent. All these characters and more come together to create a vivid portrait of Antonio Lopez and the revolutionary fashion world he helped create.


Runtime: 95 min
Language: English
FEATURED REVIEW: Kevin Ritchie, NOW Toronto
Late New York Times street-style photographer Bill Cunningham steals all his scenes in this documentary celebrating fashion illustrator Antonio Lopez – and that's no small feat in a film that includes animated interviews with actor Jessica Lange and model Pat Cleveland. READ REVIEW