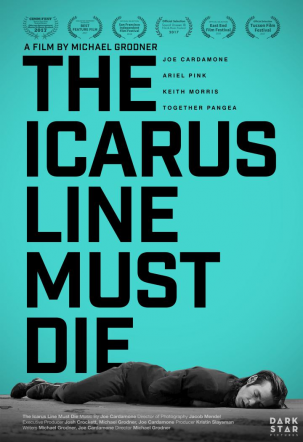 Spread the word about this film!
NOW PLAYING
The Icarus Line Must Die
The Icarus Line Must Die
is a dramatic narrative feature set against the backdrop of the current L.A. underground music scene. The film tracks Joe Cardamone, front man of notorious punk bad boys The Icarus Line, as he navigates his way through the ups and downs of the modern music landscape. With a new record completed and a major label deal within sight, Joe fights to keep his band, his relationship and his life from completely falling apart.

Ariel Pink, Keith Morris (Black Flag/Circle Jerks), Pearl Charles, Melissa Brooks (The Aquadolls), Justin Pearson, Rafael Reyes (Prayers) and Jerry Stahl (
Permanent Midnight
) are featured along with performances by Pink Mountaintops, Together Pangea, The Icarus Line, Retox, Obliterations and Annie Hardy of Giant Drag.

Runtime: 83 min
Language: English
Get Tickets
Click a
BLUE SHOWTIME
to purchase tickets
Note:
There were no showtimes for Sat, Jun 23rd, so instead we're showing you showtimes for the next available date on Sun, Jun 24th.
Royal
Just Opened
11523 Santa Monica Blvd.