This Just In...
LIVES WELL LIVED filmmaker Sky Bergman will participate in Q&A's at the Monica Film Center after the 7:30 PM show on Friday, April 20 screening and at the Playhouse 7 after the 5:20 PM show on Saturday, April 21.
Their stories are eventful and moving, and well supported by archival photos and footage.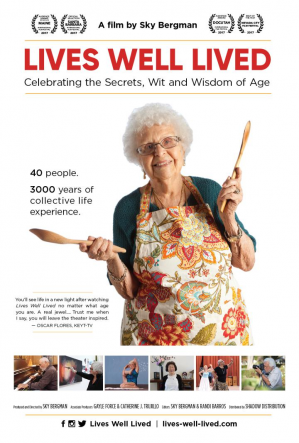 Spread the word about this film!
Opens Today!
Lives Well Lived
Lives Well Lived
celebrates the incredible wit, wisdom and experiences of people aged 75 to 100 years old. Through their intimate memories and inspiring personal histories encompassing over 3000 years of experience, forty people share their secrets and insights to living a meaningful life. These men and women open the vault on their journey into old age through family histories, personal triumph and tragedies, loves and losses - seeing the best and worst of humanity along the way. Their thoughtful perspectives reveal a treasure of life lessons and a reminder of the greatest role models in our own families.

Genre: Documentary
Runtime: 72 min
Language: English
Get Tickets
Click a
BLUE SHOWTIME
to purchase tickets