This Just In...
THE JUDGE filmmaker Erika Cohn will participate in Q&A's at the Monica Film Center after the 7:30 PM screenings on Friday and Saturday, April 20 and 21. West Hollywood City Council member Lindsey Horvath will lead the Q&A on Friday night. Dr. Laila A. Al-Marayati of KinderUSA will join Ms. Cohn for the Saturday Q&A.
'The Judge' is packed tight; it's enlightening and suspenseful and paced for maximum enjoyment.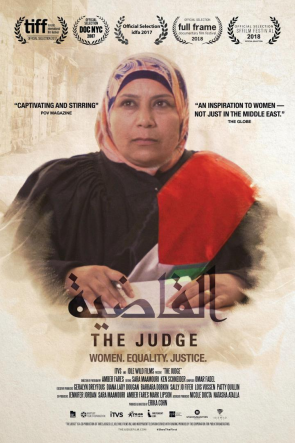 Spread the word about this film!
Opens Today!
The Judge
When she was a young lawyer, Kholoud Al-Faqih walked into the office of Palestine's Chief Justice and announced she wanted to join the bench. He laughed at her. But just a few years later, Kholoud became the first woman judge to be appointed to the Middle East's Shari'a (Islamic law) courts.

THE JUDGE offers a unique portrait of Judge Kholoud—her brave journey as a lawyer, her tireless fight for justice for women, and her drop-in visits with clients, friends, and family.

With unparalleled access to the courts, THE JUDGE presents an unfolding vérité legal drama, with rare insight into both Islamic law and gendered justice. In the process, the film illuminates some of the universal conflicts in the domestic life of Palestine—custody of children, divorce, abuse—while offering an unvarnished look at life for women and Shari'a.
Genre:
Documentary, Justice, Women and Film
Runtime:
80 min
Language:
Arabic
FEATURED REVIEW: Sheri Linden, Hollywood Reporter
Before she became the first female Shari'a judge in the Middle East, Kholoud Al-Faqih devoted her law practice to representing abused women. 'The Judge' offers compelling evidence of the ways Al-Faqih's professional background and personal temperament make her a perfect fit for her c...
Get Tickets
Click a
BLUE SHOWTIME
to purchase tickets
RED SHOWTIMES
are Sold Out