Premiere Card
Substantial discounts on tickets, concessions, and more!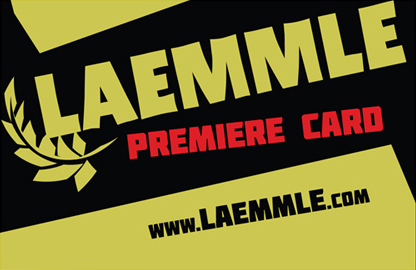 Special pricing at the theater and on Laemmle.com. See below for details.
This is the best movie deal you'll find anywhere!  Simply buy a Premiere Card and start saving. The money you spend gets loaded onto the card which you can then use as a form of payment at the theater or on our website.  Think of it as buying a gift card for yourself!  Better yet, when you use the card you are entitled to special pricing.  For example, card holders receive $3 off movie tickets* and 20% off concessions.
How:
Purchase a Premiere Card here.
Use your card to buy tickets, concessions, and merchandise.
Some restrictions apply.
* Except special engagements (like film festivals).  Also Premiere Card discount cannot be combined with our Senior Weekday Matinee, or Student Sunday Night Discount prices.