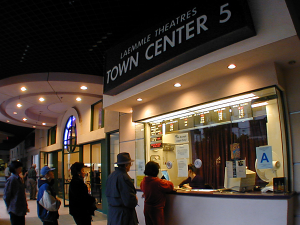 Town Center 5
17200 Ventura Blvd.
Encino, CA 91316
310-478-3836
Set as myTheatre
Get Tickets
Click a
BLUE SHOWTIME
to purchase tickets

118 min. R

87 min. PG-13
What's it like to try to get to know a flying dinosaur? In PELICAN DREAMS, Sundance and Emmy Award-winning filmmaker Judy Irving ("The Wild Parrots of Telegraph Hill") follows a wayward California brown pelican from her "arrest" on the Golden Gate Bridge into care at a wildlife rehabilitation facility, and from there explores pelicans' nesting grounds, Pacific coast migration, and survival challenges. Newsweek Magazine just published this piece about the film. It begins, "'A friend of mine was in this traffic jam,' Judy Irving recalls. 'She said, 'You'll never guess why I was held up on the bridge.'' It's not unusual for traffic to come to
[...]
On October 31 we open the Swedish film FORCE MAJEURE, Ruben Östlund's wickedly funny and precisely observed psychodrama about a seemingly model married couple who suddenly find themselves in crisis after the husband does something extremely cowardly and selfish. Written and directed by Östlund (Play, Involuntary), the film was a word-of-mouth sensation at the Cannes Film Festival earlier this year, where it won the Jury Prize in Un Certain Regard. Östlund recently sat for an interview with Indiewire's Ryan Lattanzio to talk about this top contender for the Foreign Language Oscar: Indiewire: What initially interested you about a couple in c
[...]
In India, a group of boys dream of becoming chess grandmasters. But this is no ordinary chess and these are no ordinary players. ALGORITHMS is a documentary that transports us into the little known world of blind chess. Filmed over three years in different parts of India, ALGORITHMS follows three boys and an adult champion who not only aspires to bring global recognition to India's blind chess players, but also wants to encourage all blind children to play chess. ALGORITHMS director Ian McDonald and producer Geetha J will participate in Q&A's at our Town Center 5 theater after the 7:10 screenings on Friday and Saturday, October 17 and
[...]
HIROSHIMA MON AMOUR is the late Alain Resnais' seminal debut film. A pillar of the French New Wave, long unavailable for exhibition in the United States due to rights issues, HIROSHIMA has been spectacularly restored. We open the film on October 17 at the Royal, Playhouse and Town Center. Employing a radical use of voice-over narration and quickly-flashbacked scenes, the film tells the story of a brief relationship in post-war Japan between a French actress, played by Oscar nominee Emmanuelle Riva (Amour), and a Japanese architect, played by Eiji Okada (Woman in the Dunes). The Oscar-nominated screenplay was written by Marguerite Duras, wh
[...]
Next week we'll be opening the winning new British bio-pic ONE CHANCE. From the director of The Devil Wears Prada, the movie's the marvelous true story of Paul Potts, a shy, bullied shop assistant by day and an amateur opera singer by night. Paul became an instant YouTube phenomenon after being chosen by Simon Cowell for 'Britain's Got Talent.' Wowing audiences worldwide with his phenomenal voice, Paul went on to win the show and the hearts of millions. Writing in the L.A. Times, Annlee Ellingson called it "a sweet, funny, heartfelt film, and while we may know all along how it all turns out, Paul's signature performance still gives us chills.
[...]