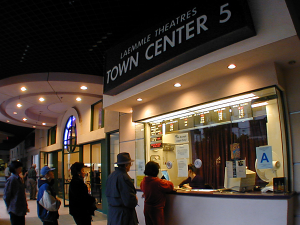 Town Center 5
17200 Ventura Blvd.
Encino, CA 91316
310-478-3836
Set as myTheatre
Get Tickets
Click a
BLUE SHOWTIME
to purchase tickets

87 min. NR

115 min. NR

104 min. R

90 min. NR

99 min. PG-13
In EFFIE GRAY, actress-screenwriter Emma Thompson portrays the forbidden realms of Victorian society through the true story of the marriage of Effie Gray and renowned art critic John Ruskin, exposing a secret world of unrequited passion hidden behind the veil of an opulent public life. Set in an era when neither divorce nor homosexuality were tolerated, EFFIE GRAY is the story of a beautiful young woman coming of age, and finding her own voice in a world where women were expected to be seen but not heard. Within the lush environs of a world brimming with art, painting, high society and feverishly bucolic scenes of the Scottish countryside, EF
[...]
THE MAFIA ONLY KILLS IN SUMMER is a subversive, irreverent Italian film about Arturo, a young boy whose obsession with the Mafia's casual presence in his city surpasses even his passion for Flora, the beautiful schoolmate who remains his main love interest until adulthood. The filmmaker uses Arturo's unrequited love story as the vehicle to narrate the most tragic events in Italy's recent history, starting with the Cosa Nostra's criminal actions in Sicily in the '70s, including their notorious murders of judges. THE MAFIA ONLY KILLS IN SUMMER, which we will open at the Royal, Playhouse and Town Center on March 27, was directed, narrated and
[...]
CineLife is a free mobile app that puts art house theaters and independent film first. We are pleased to be official CineLife Launch Partners! Designed for the film enthusiast, CineLife provides up-to-date information wherever you are. You can easily see what movies are playing, watch trailers, check reviews, find show times, and purchase tickets all in one place. You can even use your Laemmle Premiere Card! You'll never miss out on news, promotions, and special events like Q&As at your favorite Laemmle Theatres. CineLife also provides the latest indie film news from respected leaders and blogs in the art house community. Downloa
[...]
A touching and tense drama about destiny, connections, and passion, 3 HEARTS presents a headily romantic look at a classic love triangle. One night in provincial France, Marc (Benoît Poelvoorde) meets Sylvie (Charlotte Gainsbourg) after missing his train back to Paris. Instantly and intensely drawn to one another, they wander through the streets until morning in rare, almost choreographed, harmony. A thwarted plan for a second meeting sends each in a separate direction – Sylvie reunites with her ex and leaves France; Marc falls in love and marries. What neither knows is that Marc's new bride is Sylvie's sister, Sophie (Chiara Mastroianni). Up
[...]
The Canter's and Deli Doctor food trucks are coming to the Royal Theatre in West LA in support of the new documentary DELI MAN. That's not all! Several local delis have special deals for diners who bring in their DELI MAN tickets stubs! DELI MAN opens March 6th in West LA and Encino. Food Truck Schedule 3/6 - Canter's Truck from 6pm - 9pm at the Royal 3/7 - The Deli Doctor from 6pm - 9pm at the Royal 3/8 - Canter's Truck from 4pm - 7pm at the Royal Special Offers from Local Delis (Valid March 6th - 20th Only) Art's Deli: Free fountain drink or coffee with a ticket stub from Deli Man. Not valid with any other discounts or specials.
[...]