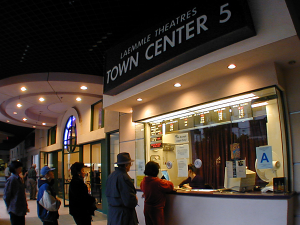 Town Center 5
17200 Ventura Blvd.
Encino, CA 91316
310-478-3836
Set as myTheatre
Get Tickets
Click a
BLUE SHOWTIME
to purchase tickets

117 min. R

107 min. NR

102 min. PG-13
With Russia on everyone's minds more than usual this year, we are thrilled to offer a brilliant cinematic look at this nation with Andrey Zvyagintsev's LEVIATHAN. The film, winner for Best Screenplay and a nominee for the Palme d'Or at Cannes earlier this year, is a painterly, primordial tale about a proud patriarch fighting to protect his family home from a corrupt local official. Kolia lives in a small fishing town. It "puts contemporary Russia, as up-to-the-minute as Putin and Pussy Riot, under the microscope. LEVIATHAN is a stupendous piece of work that transcends language and borders." The New York Daily News described the film as "a ble
[...]
This coming Christmas Eve (Dec. 24) we will celebrate the 50th Anniversary of the Broadway production with our 7th Annual Fiddler On the Roof Sing-Along! Join us (at any of our venues) for our traditional, yet non-traditional Christmas Eve experience as we sing along with Tevye and the shtetl to iconic favorites like "Tradition", "If I Were a Rich Man", "Matchmaker", "To Life", "Sunrise Sunset" and many others. GET TICKETS to the event before it sells out! In addition to movie and song, the audience will be regaled with Fiddler history and trivia, with prizes being awarded to Fiddler buffs with the quickest recall. In this "a
[...]
[caption id="attachment_4561" align="alignright" width="137" caption="Anthony Michael Hall"][/caption] AFTERMATH stars Anthony Michael Hall and Elisabeth Röhm, filmmaker Thomas Farone, producer/co-writer Sean Boyle, executive producer Jonathan Brandstein, associate producer Michalina Scorzelli, and composer David Kitay will participate in Q&A's at the Town Center after the 3 and 7:40 PM screenings on opening day, Friday, December 5. Anthony Michael Hall plays the owner of a profitable construction company whose perfect life is interrupted when a charismatic ex-convict Tony Bricker (Chris Penn) is fired and his foreman (Jamie Harrold
[...]
Many U.S. arthouse moviegoers were wowed last year when they were introduced to Toni Servillo, one of Italy's finest actors, in The Great Beauty. The film went on to win the Oscar for Best Foreign Film. Next Friday the 28th we are excited to open Mr. Servillo's latest film to make the journey from overseas, VIVA LA LIBERTA. Servillo plays Enrico Oliveri, a politician who realizes that the decline of his party is inevitable and decides to disappear, fleeing to Paris to find peace in the home of his ex-girlfriend Danielle (Valeria Bruni-Tedeschi) while creating a panic within the party. His top aide and his wife decide to contact his twin broth
[...]
The documentary SHADOWS FROM MY PAST, which we open this Friday at the Town Center 5, juxtaposes interviews of prominent contemporary Austrians grappling with their nation's complicity in the Holocaust with desperate letters written by filmmaker Gita Kaufman's Jewish family from Vienna, 1939 – 1941, begging to save their children. Both the interviews and the letters reverberate to today. SHADOWS FROM MY PAST  co-director Gita Kaufman will participate in Q&A's after the 8 PM screenings on Friday and Saturday and the 1 PM and 3:20 PM screenings on Sunday.