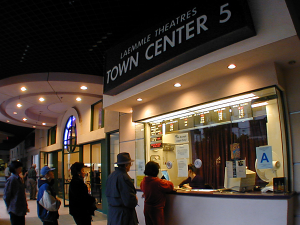 Town Center 5
17200 Ventura Blvd.
Encino, CA 91316
310-478-3836
Set as myTheatre
Get Tickets
Click a
BLUE SHOWTIME
to purchase tickets

130 min. R

83 min. NR

149 min. R

95 min. PG-13

196 min. NR
In 1948, a group of World War II pilots volunteered to fight for Israel in the War of Independence. As members of 'Machal' -- volunteers from abroad -- this ragtag band of brothers not only turned the tide of the war, preventing the possible annihilation of Israel at the very moment of its birth; they also laid the groundwork for the Israeli Air Force. ABOVE AND BEYOND is their story. The first major feature-length documentary about the foreign airmen in the War of Independence, ABOVE AND BEYOND brings together new interviews with pilots from the '48 War, as well as leading scholars and statesmen, including Shimon Peres, to present an extraor
[...]
Internationally acclaimed Turkish filmmaker Nuri Bilge Ceylan has won prizes at major film festivals all over the world, but it wasn't until last May, after being nominated four times, that he finally took home what is probably the topmost prize of all, the Cannes Film Festival's Palme d'Or. It was for WINTER SLEEP, a "richly engrossing and ravishingly beautiful magnum opus" about Aydin, a former actor who runs a small hotel in central Anatolia with his young wife Nihal and his sister Necla, who is recovering from her recent divorce. "A Chekhovian meditation on a marriage that returns to the mood of the director's early films like Climates an
[...]
This year Germany submitted BELOVED SISTERS as their potential nominee for the Best Foreign Language Film Oscar, and one can see why. Scott Foundas of Variety, a smart, tough critic, called the movie "an enthralling, gorgeously mounted depiction of the complicated relationship between the post-Enlightenment writer and philosopher Friedrich Schiller and the sisters Charlotte von Lengefeld and Caroline von Beulwitz. Graf has created an unusually intelligent costume drama of bold personalities torn between the stirrings of the heart and the logic of the mind." We are very pleased to open the film tomorrow at the Royal, Playhouse and Town Center.
[...]
It's time for our 3rd Annual Ride with Greg Laemmle Climate Ride Contest!  Don't miss your chance to participate in this life-altering event.  Last year our team was 14 strong and we're expecting to surpass that number for 2015.  Join us and become part of our amazing group! What's more, tell us why you want to ride with Greg and you could win an Unlimited Laemmle Movie Pass for the remainder of 2015, free registration for Climate Ride California, and a $2500 contribution toward your Climate Ride fundraising goal from the Laemmle Charitable Foundation.  See the second and third prize packages, eligibility requirements, and all contest deta
[...]
We could not be more thrilled to open Luc and Jean-Pierre Dardenne's latest movie, TWO DAYS, ONE NIGHT, January 9 at the Royal and January 16 and the Playhouse and Town Center. The Belgian brothers behind L'Enfant and The Kid with a Bike recently spoke with Larry Rohter of the New York Times about their new film, which for the first time features a genuine movie star, Marion Cotillard: Another Oscar season, another snub for the Dardenne brothers. Their "Two Days, One Night," Belgium's submission for the Academy Award for best foreign­ language film, won various festival and critics' awards, as well as a European Film Award this month for M
[...]