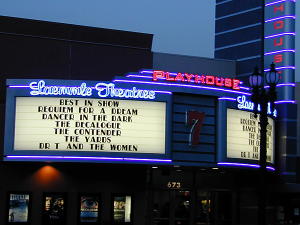 Playhouse 7
673 East Colorado Blvd.
Pasadena, CA 91101
310-478-3836
Set as myTheatre
Get Tickets
Click a
BLUE SHOWTIME
to purchase tickets

92 min. NR

94 min. PG-13

99 min. NR

120 min. R

107 min. NR

102 min. PG-13

105 min. NR
The 87th Academy Awards nominations will be announced January 15th but Oscar completionists can get a head start on the Documentary Features category thanks to the Academy's 15-film shortlist and Laemmle Theaters. The Academy's Documentary Branch narrowed the field to 15 from 134 submissions. While we've already screened many films, some are still in theaters, and five will play as morning shows over the next few weeks. By the time nominations are announced, every film on the shortlist will have played at one or more of our theaters... for those keeping track! Weekend morning shows in Claremont, North Hollywood, Pasadena, and West LA: 12
[...]
When a cold fish telecommunications executive returns to his small island town for his estranged mother's burial, he learns about the Taiwanese tradition that mandates him to marry within 100 DAYS so that the parent's spirit can transition peacefully. When a typhoon leaves him stranded for three days, he rekindles a romance with his free spirited childhood sweetheart, who is engaged to marry a local villager. 100 DAYS director Henry Chan, and Emmy winner for A to Z, Scrubs and Moesha, along with the 100 DAYS producers, will participate in Q&A's after the 7:30 and 9:55 PM screenings on Friday, December 12 and after all screenings on Sat
[...]
A animated classic, Paul Grimault's THE KING AND THE MOCKINGBIRD, written by Grimault and legendary poet and screenwriter Jacques Prévert, has been restored and after many decades finally getting a theatrical release in the United States. Based on a Hans Christian Andersen story, this wildly satirical film follows a chimney sweep and shepherdess on the run from a tyrannical king. A masterpiece of traditional hand-drawn cell animation, THE KING AND THE MOCKINGBIRD is credited by celebrated Japanese animators Hayao Miyazaki and Isao Takahata as inspiring the creation of their own studio, the now world-famous Studio Ghibli. Its influence can als
[...]
Angelino Lonnie Franklin Jr. was arrested in July 2010 after a 25-year killing spree in which it is thought he could have killed over a 100 victims, potentially making him the worst serial killer in history. Significantly his arrest was not the product of painstaking detective work but completely accidental, the result of a computer DNA match that linked him to a possible 20 victims. Franklin now awaits trial. TALES OF THE GRIM SLEEPER looks into how it was possible for all this to happen. TALES OF THE GRIM SLEEPER filmmaker Nick Broomfield, cinematographer Barney Broomfield and subject Pam Brooks will participate in Q&A's at the Playh
[...]
UZUMASA LIMELIGHT follows an aged movie extra who specializes the hero's victim in samurai movies without ever being lit by the limelight. Using Charlie Chaplin's film Limelight as an underlying theme, the admirable story of Seiichi Kamiyama dealing with a new generation and fading craftsmanship is told with melancholy and soul. UZUMASA LIMELIGHT director Ken Ochiai and producer Ko Mori will participate in Q&A's after the 4:20 and 9:50 screenings at the Royal on Friday, December 5; after the 9:50 screening at the Royal on Saturday, December 6; and after the 4:50 screenings at the Playhouse on Saturday and Sunday, December 6 and 7.