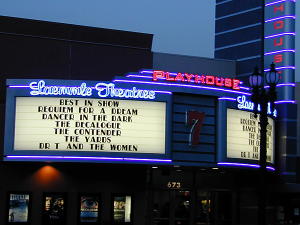 Playhouse 7
673 East Colorado Blvd.
Pasadena, CA 91101
310-478-3836
Set as myTheatre
Get Tickets
Click a
BLUE SHOWTIME
to purchase tickets

111 min. NR

87 min. PG

92 min. NR

112 min. R

103 min. NR

119 min. R

93 min. R

137 min. PG
From the San Diego Union-Tribune, October 2, by Pam Kragen: "Boy's triumph over autism inspires new film: Actress writes movie that draws on her onetime mentoring relationship with San Marcos college student." SAN MARCOS — When he was a toddler, Cal State San Marcos freshman Julian Kalb overcame an autism-related communication disorder with the help of L.A. actress Maggie Baird. Fifteen years later, he's returning the favor as executive producer for Baird's new film — a drama inspired by their long-ago mentoring relationship. "Baird co-wrote and stars in "Life Inside Out," the story of a mother who helps her socially awkward son find h
[...]
LIFE INSIDE OUT tells the story of Laura, the mother of three teenage boys, and her youngest son Shane, the family misfit and a disappointment to his father. When Laura stumbles upon her long forgotten guitar, she is taken under its spell and rediscovers her love for song writing. LIFE INSIDE OUT lead actress/co-writer Maggie Baird, director Jill D'Agnenica, co-writer Lori collins and/or producer Tessa Bell will participate in Q&A's after most screenings: 10/17: Collins for the 1:50 and 4:30 shows; Baird, D'Agnenica, Collins and Bell after the 7:10 screening; Baird, D'Agnenica and Bell after the 9:50 show; 10/18: D'Agnenica and B
[...]
What's it like to try to get to know a flying dinosaur? In PELICAN DREAMS, Sundance and Emmy Award-winning filmmaker Judy Irving ("The Wild Parrots of Telegraph Hill") follows a wayward California brown pelican from her "arrest" on the Golden Gate Bridge into care at a wildlife rehabilitation facility, and from there explores pelicans' nesting grounds, Pacific coast migration, and survival challenges. Ms. Irving will attend several screenings on opening weekend to do Q&A's: after the 7:30 PM screenings Friday, November 7 at the Royal and Saturday, November 8 at the Playhouse. [caption id="attachment_4146" align="alignleft" width="58
[...]
HIROSHIMA MON AMOUR is the late Alain Resnais' seminal debut film. A pillar of the French New Wave, long unavailable for exhibition in the United States due to rights issues, HIROSHIMA has been spectacularly restored. We open the film on October 17 at the Royal, Playhouse and Town Center. Employing a radical use of voice-over narration and quickly-flashbacked scenes, the film tells the story of a brief relationship in post-war Japan between a French actress, played by Oscar nominee Emmanuelle Riva (Amour), and a Japanese architect, played by Eiji Okada (Woman in the Dunes). The Oscar-nominated screenplay was written by Marguerite Duras, wh
[...]
Adam Hart, Director of Photography for the moving new documentary KEEP ON KEEPIN' ON, will participate in Q&A's after the 8 PM screenings at the Playhouse on Friday and Saturday, October 10 and 11 and after the 3:20 screening on Sunday, October 12.