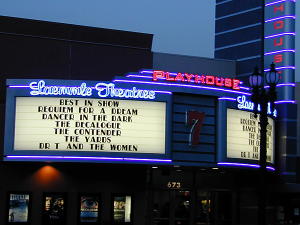 Playhouse 7
673 East Colorado Blvd.
Pasadena, CA 91101
310-478-3836
Set as myTheatre
Get Tickets
Click a
BLUE SHOWTIME
to purchase tickets

123 min. R

98 min. NR

106 min. PG-13

108 min. NR

98 min. PG-13

106 min. R
On Sunday the Newark Star-Ledger published a very good piece by film critic Stephen Whitty about actor Viggo Mortensen and his excellent new thriller THE TWO FACES OF JANUARY. It provides a glimpse into his unusual history and thoughts on acting, including what he likes about his latest role: "What's great about this kind of story, it leaves a lot of questions unanswered. It provokes conjectures about meaning and motivation. It's always great as an actor to play someone with a secret, but here you have secrets inside secrets... all the characters are lying to some degree, at least to themselves, and that makes for some very interesting roles.
[...]
I AM ELEVEN filmmaker Genevieve Bailey visited KCAL 9 for an interview recently:
I AM ELEVEN filmmaker Genevieve Bailey will participate in Q&A's at the Royal after the 7:50 PM screenings Friday-Sunday, September 19-21 and after the 1 PM screenings on Saturday and Sunday. If the Playhouse 7 is your theater, Ms. Bailey will be there for Q&A's after the 4:20 PM screenings on Saturday and Sunday. [caption id="attachment_3930" align="alignleft" width="580" caption="Genevieve Bailey; portrait by Henrik Nordstrom"][/caption]
The documentary we're opening next week at the Royal and Playhouse, I AM ELEVEN, is getting some very strong advance notice in New York. Australian filmmaker Genevieve Bailey traveled the world for six years talking with 11-year-olds to compose this insightful, funny and moving portrait of childhood. I AM ELEVEN explores the lives and thoughts of children from all around the world. It weaves together deeply personal and at times hilarious portraits of what it means to stand on the cusp between childhood and adolescence, that fleeting moment when childish naiveté has faded, yet teenaged self-consciousness has not yet taken hold. In the New Yor
[...]
A PICTURE OF YOU filmmaker J.P. Chan will participate in Q&A's after the 7:20 PM screenings Friday and Saturday, September 12 and 13, and after the 1:20 PM screenings on Saturday and Sunday, September 13 and 14.