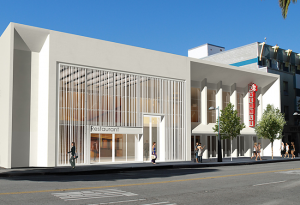 Monica 4
1332 2nd Street
Santa Monica, CA 90401
310-478-3836
Set as myTheatre
Monica Film Center Coming Soon!
After 44 years serving Santa Monica and West L.A., the venerable Monica 4-Plex is now closed for renovations! After a major overhaul, it will reopen as the MONICA FILM CENTER with six auditoriums, a restaurant and and lounge, and rooftop deck with an ocean view. The new and improved Monica is currently slated to re-open in the Fall of 2015. Check back on this page for updates along the way.
The Academy Awards air this Sunday which means entries for our Umpteenth Annual Oscar Contest are due Sunday morning. The person who most accurately predicts the Academy of Motion Picture Arts and Science's choices wins ten pairs of passes, second place wins eight pairs and third place wins six pairs. The best way to up your Oscar game is to see the nominees. Watching THE 2015 OSCAR-NOMINATED SHORTS ANIMATED, DOCUMENTARY, and LIVE ACTION will certainly put you ahead of the pack. Best Foreign Film nominees LEVIATHAN and TIMBUKTU expand to Claremont and NoHo this Friday. IDA is playing in Beverly Hills. Unfortunately, WILD TALES and TANGERINE
[...]
It's time for our 3rd Annual Ride with Greg Laemmle Climate Ride Contest!  Don't miss your chance to participate in this life-altering event.  Last year our team was 14 strong and we're expecting to surpass that number for 2015.  Join us and become part of our amazing group! What's more, tell us why you want to ride with Greg and you could win an Unlimited Laemmle Movie Pass for the remainder of 2015, free registration for Climate Ride California, and a $2500 contribution toward your Climate Ride fundraising goal from the Laemmle Charitable Foundation.  See the second and third prize packages, eligibility requirements, and all contest deta
[...]
This coming Christmas Eve (Dec. 24) we will celebrate the 50th Anniversary of the Broadway production with our 7th Annual Fiddler On the Roof Sing-Along! Join us (at any of our venues) for our traditional, yet non-traditional Christmas Eve experience as we sing along with Tevye and the shtetl to iconic favorites like "Tradition", "If I Were a Rich Man", "Matchmaker", "To Life", "Sunrise Sunset" and many others. GET TICKETS to the event before it sells out! In addition to movie and song, the audience will be regaled with Fiddler history and trivia, with prizes being awarded to Fiddler buffs with the quickest recall.
[...]
A reminder that Laemmle's Culture Vulture Mondays starts this Monday! We pick the best from the world of ballet, opera, stage, and fine art to feature on the big screen every Monday* at 7:30PM at every Laemmle location! Can't make it Monday at 7:30PM? No problem! Catch discounted encore presentations Tuesdays at 1PM. Future presentations include LA TRAVIATA from the Opera National de Paris, the ballet LA BAYADERE from Russia's Mariinsky Theatre, and a guided tour through the works of MATISSE from London's Tate Modern museum. Visit our oft-updated Culture Vulture page for the latest information on upcoming selections. Laemmle's Culture Vult
[...]
Laemmle has several pairs of tickets to give away to the astounding FOREVER FLAMENCO -- a special one-night only celebration of music, song, and dance at the Ford Amphitheatre in Hollywood. The event takes place Saturday, August 9 at 8:30pm. ENTER-TO-WIN here! The dancers, musicians and singers of FOREVER FLAMENCO have been delighting Fountain Theatre audiences for over two decades with the intensity, precision and exhilaration for which flamenco is known. Now Forever Flamenco returns to the outdoor stage at the FORD THEATRES with this passionate expression of Spanish culture. A roster of internationally renowned flamenco artists will pay
[...]