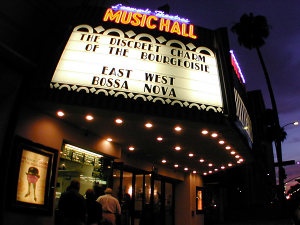 Music Hall 3
9036 Wilshire Blvd.
Beverly Hills, CA 90211
310-478-3836
Set as myTheatre
Get Tickets
Click a
BLUE SHOWTIME
to purchase tickets

108 min. NR
1:20pm
|
4:10pm
|
7:00pm
|
9:45pm

83 min. R

98 min. PG-13

120 min.

190 min.
Tom Hayes, filmmaker of the fascinating new documentary SMILING THROUGH THE APOCALYPSE: ESQUIRE IN THE SIXTIES, will participate in Q&A's at the Music Hall after the 7:30 PM screenings on Friday and Saturday, September 26 and 27, and after the 4:50 PM screening on Sunday, September 28.
BRIDGE AND TUNNEL actors Annet Mahendru (The Americans, Escape from Tomorrow), Mary Kate Wiles (The Lizzie Bennett Diaries!!!), Arjun Gupta (Nurse Jackie), along with director Jason Michael Brescia, will participate after the 7:3o PM screening at the Music Hall on Saturday, September 27.
CHRISTMAS RIDE filmmaker Karen Francis will participate in Q&A's after the 7 PM screenings at the Music Hall on Friday and Saturday, September 19 and 20. For the premiere theatrical run of CHRISTMAS RIDE at the Music Hall, the ticket prices offer some wonderful opportunities for extra savings, almost like the ticket prices of the nineties, the era that this new film is set in, for this first week  only September 19 - 25. TICKET PRICES FOR CHRISTMAS RIDE General Admission at the Music Hall      $11. Seniors 62 & Over                                         8.  Children 11 & Under                                      8.
[...]
Aaron Wilson, writer-director of the acclaimed new Australian war film CANOPY, will participate in Q&A's after the 7:40 PM screenings at the Music Hall on Friday and Saturday, September 12 and 13. [caption id="attachment_3893" align="alignleft" width="155" caption="Aaron Wilson"][/caption]
The documentary FAITH CONNECTIONS takes the audience to the Kumbh Mela, one of the world's most extraordinary religious events, and introduces us to remarkable men of mind and meditation, some facing an inextricable dilemma: to embrace the world or to renounce it. The film explores several diverse and deeply moving stories of attendees. We are planning two Q&A's after the 7 PM screenings this Friday and Saturday at the Music Hall: Friday, 9/12 with Phil Goldberg, author of American Veda. Saturday, 9/13 with Felicia Tomasko, editor of L.A. Yoga Magazine. [caption id="attachment_3886" align="alignleft" width="200" caption="A scene
[...]