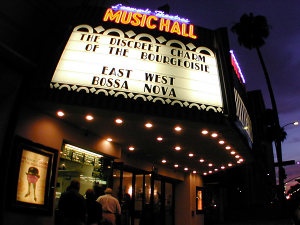 Music Hall 3
9036 Wilshire Blvd.
Beverly Hills, CA 90211
310-478-3836
Set as myTheatre
Get Tickets
Click a
BLUE SHOWTIME
to purchase tickets

80 min. NR

102 min. NR

85 min.

90 min.

130 min.

121 min. NR

105 min. NR
ALL YOU NEED IS LOVE is a documentary that focuses on the lives and dreams of the children of Good Morning School in the district of Mae Sot, Thailand. Mae Sot is a town on the Thai-Burma border where hundreds of thousands of Burmese nationals have chosen to live as a result of the repressive actions taken by Burma's military junta. They fled from Burma and escaped to Mae Sot with the hope that they would be able to sustain their families and become free from the fear of getting shot and arrested. However, the vast majority of Burmese in the town exist as people without nationality, rights or any solid future. This is the harsh reality that t
[...]
BOTSO is the powerfully inspiring story of Wachtang "Botso" Korisheli, a man from the Republic of Georgia who endured both Stalin and Hitler and went on to inspire world-class musicians in a small coastal village in California. BOTSO director Tom Walters and other members of the production team will be hosting Q&A's after the 7:20 PM screenings at the Music Hall on Friday through Sunday, October 24-26. [caption id="attachment_4271" align="alignleft" width="242" caption="BOTSO filmmaker Thomas Walters"][/caption]
In ETERNITY: THE MOVIE, Todd Lucas is a naive songwriter from the Midwest. B.J. Fairchild is a brash saxophonist from the Valley. Alone, they are pathetic losers. Together, they form the 1980s R&B duo Eternity. Meet the cast -- Donna Ruko, Tamzin Brown, Jesse Kove, Scott Seymour, Myko Olivier, Martin Kove, Liz McGeever and Jon Gries --  director, Ian Thorpe, and screenwriter, Joey Abi-Loutfi, of this new musical comedy opening night at the Music Hall. They'll be there for the 7:30 PM screening.  Thorpe and Abi-Loutfi will also do a Q&A after the 10 PM show on Friday and the 7:30 show on Saturday.
Please note the Monday, October 20 screening of TAMING OF THE SHREW at the Music Hall is cancelled. We will still screen at 1 PM on Tuesday, October 21. The Monday screenings at other Laemmle venues will proceed.
How does a 16-year-old honor student evolve into a bank robber? In EVOLUTION OF A CRIMINAL, filmmaker Darius Clark Monroe asks this very question about himself. After seeing his mother and stepfather struggle to make ends meet while living outside of Houston, Monroe decided to help them by robbing a bank with two friends. Executive produced by Spike Lee. Monroe, director of this acclaimed new autobiographical documentary, will participate in Q&A's after the 7:10 screenings at the Music Hall on Friday, October 17 and Tuesday, October 21.