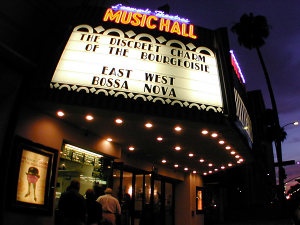 Music Hall 3
9036 Wilshire Blvd.
Beverly Hills, CA 90211
310-478-3836
Set as myTheatre
Get Tickets
Click a
BLUE SHOWTIME
to purchase tickets

73 min. NR

83 min. NR

106 min.

85 min.

182 min. NR
Please note the Monday, October 20 screening of TAMING OF THE SHREW at the Music Hall is cancelled. We will still screen at 1 PM on Tuesday, October 21. The Monday screenings at other Laemmle venues will proceed.
How does a 16-year-old honor student evolve into a bank robber? In EVOLUTION OF A CRIMINAL, filmmaker Darius Clark Monroe asks this very question about himself. After seeing his mother and stepfather struggle to make ends meet while living outside of Houston, Monroe decided to help them by robbing a bank with two friends. Executive produced by Spike Lee. Monroe, director of this acclaimed new autobiographical documentary, will participate in Q&A's after the 7:10 screenings at the Music Hall on Friday, October 17 and Tuesday, October 21.
A recently discovered cache of hundreds of personal letters, diaries, and photographs belonging to Nazi Gestapo chief Heinrich Himmler seems to reveal a thoughtful, loving husband and devoted father to his daughter, Gudrun. The documents were hidden in Tel Aviv for decades and sold to the father of the Israeli documentary filmmaker, Vanessa Lapa. With her film THE DECENT ONE she has fashioned a fascinating case study: a portrait of the man responsible for some of the worst atrocities of the Second World War, who thought of himself in heroic terms. Ms. Lapa will discuss Himmler and her film during Q&A's after the 7:20 PM screenings of THE
[...]
In the delightful new documentary ADVANCED STYLE, street style photographer Ari Seth Cohen and director Lina Plioplyte dive into the personal lives of New York City's most fashionable women over 60. In an industry obsessed with youth, these older women dispel conventional ideas about beauty and aging and prove that with age comes grace, confidence, boldness, flair and new, unimagined opportunities for fame and fortune. Both Ms. Plioplyte and Mr. Cohen will be at the Music Hall for Q&A's on opening weekend: after the 7:20 PM screening on Friday, October 17 and after the 5 and 7:20 PM screenings on Saturday, October 18. [caption id
[...]
"Rich and emotionally rewarding" - IndieWire "Full of remarkably candid moments" - Filmmaker Magazine "Spellbinding" - The Daily Beast "Bizarre and entertaining" - Variety WEB JUNKIE screenings are sponsored by Unplug  -- limited number of free two-week passes given away at the Saturday-Monday evening screenings.  Also, we will do a Web Junkie Movie poster giveaway Sunday night.  Dr. Elisha Goldstein will host a Q&A after Sunday night's 7:30pm screening - psychologist, speaker and author whose work includes the bestselling books The Now Effect: How This Moment Can Change the Rest of Your Life and A Mindfulness-Based
[...]