This Just In...
FAMOUS NATHAN filmmaker Lloyd Handwerker will participate in Q&A's at the Music Hall after the 5 and 7:20 PM screenings on Friday, July 31 and after the 12:20, 2 and 5 PM shows on Saturday, August 1.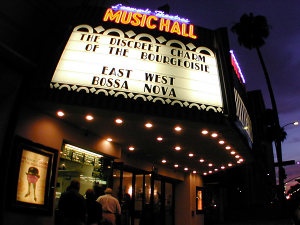 Music Hall 3
9036 Wilshire Blvd.
Beverly Hills, CA 90211
310-478-3836
Set as myTheatre
Get Tickets
Click a
BLUE SHOWTIME
to purchase tickets

120 min. R

97 min. R
In the new the new drama EVERY SECRET THING, opening tomorrow at the NoHo and Music Hall, a detective (Elizabeth Banks) tries to unravel a mystery surrounding missing children and the prime suspects: two young women (Dakota Fanning and newcomer Danielle Macdonald) who, seven years ago, were imprisoned for an infant's death. The screenplay is by Nicole Holofcener, based on Laura Lippman's novel and actor Frances McDormand is the executive producer. EVERY SECRET THING director Amy Berg, along with actors Diane Lane and Danielle Macdonald, will participate in a Q&A after the 2:10 screening at the Music Hall on Saturday, May 16.
GROUNDSWELL RISING, the new documentary from Emmy Award-winning Resolution Pictures which we open at the Music Hall on Friday, captures the passion of people engaged in a David and Goliath confrontation. They stand together, challenging a system that promotes profit over health. We meet mothers, fathers, scientists, doctors, farmers and people from all sides of the political spectrum taking a hard look at energy extraction techniques that have not been proven safe. With the oil and gas industry's expansion of fracking seen as a moral issue, this provocative documentary tracks a people's movement, a groundswell rising towards reason and sensit
[...]
Greg Laemmle, Team LACBC and our contest winners embark on Climate Ride 2015 this Sunday, May 17th! Follow Greg on Twitter (@greglaemmle) for the latest ride updates as he makes his way from California's historic Redwood Empire near Eureka, along the scenic coast, and into the famed Russian River Valley before crossing the Golden Gate Bridge into San Francisco. We're halfway to our fundraising goal and your help could put us over the top. Just purchase one (or more) of our tasty Climate Ride Concession Specials the next time you see a movie at any of our locations. When you purchase a - • CLIF BAR, we give $1 to Climate Ride Califor
[...]
KNOW HOW is a film written and acted by foster care youth, ripped from the stories of their lives. Five youths' worlds interweave as they confront loss, heartbreak, and growing up in this tale about transience and perseverance. Addie struggles to graduate from high school while her best friend Marie loses her grandmother. Megan copes with being taken from her abusive family and faces the harsh reality of living in a residential treatment center. All the while Eva works to be mother to her sister while their father falls deeper into a crack addiction. Austin is living on the street with his brother, barely able to feed himself. All of them mus
[...]
The new documentary ANTARCTIC EDGE: 70° SOUTH is a thrilling journey to the bottom of the Earth alongside a team of dedicated scientists. In the wake of devastating climate events like Superstorm Sandy and Hurricane Katrina, oceanographer Oscar Schofield teams up with a group of world-class researchers in a race to understand climate change in the fastest winter-warming place on earth: the West Antarctic Peninsula. For more than 20 years, these scientists have dedicated their lives to studying the Peninsula's rapid change. We open ANTARCTIC EDGE: 70° SOUTH May 15 at the Music Hall. Filmmaker Dena Seidel & co-producer Xenia Morin will i
[...]