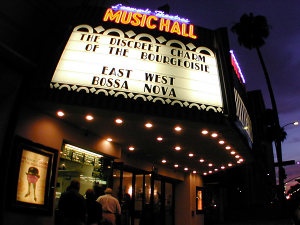 Music Hall 3
9036 Wilshire Blvd.
Beverly Hills, CA 90211
310-478-3836
Set as myTheatre
Get Tickets
Click a
BLUE SHOWTIME
to purchase tickets

92 min. NR

164 min. R
12:20pm
|
4:00pm
|
7:40pm

100 min. NR

118 min. R

100 min. R

88 min. PG-13

165 min.
This coming Christmas Eve (Dec. 24) we will celebrate the 50th Anniversary of the Broadway production with our 7th Annual Fiddler On the Roof Sing-Along! Join us (at any of our venues) for our traditional, yet non-traditional Christmas Eve experience as we sing along with Tevye and the shtetl to iconic favorites like "Tradition", "If I Were a Rich Man", "Matchmaker", "To Life", "Sunrise Sunset" and many others. GET TICKETS to the event before it sells out! In addition to movie and song, the audience will be regaled with Fiddler history and trivia, with prizes being awarded to Fiddler buffs with the quickest recall. In this "a
[...]
WE ARE THE GIANT transports viewers to the front lines of the Arab Spring through the courageous stories of six extraordinary people grappling with the dilemma at the heart of all struggles for justice and freedom: whether to take up arms and fight, or to advocate change through peace and non-violence. WE ARE THE GIANT director Greg Barker will participate in a Q&A moderated by Los Angeles World Affairs Council president and former foreign correspondent Terry McCarthy after the 7:20 PM screening tonight at the Music Hall.
From the director of The Black Power Mixtape, CONCERNING VIOLENCE is a bold and fresh visual narrative on Africa, based on newly discovered archive material covering the struggle for liberation from colonial rule in the late '60s and '70s, accompanied by text from Frantz Fanon's The Wretched of the Earth. CONCERNING VIOLENCE co-producer Danny Glover will participate in a Q&A after the 7:20 PM screening at the Music Hall on Friday, December 12. Robin Kelly, the Gary B. Nash Professor of American History of UCLA, will moderate. Professor Kelley's most recent book, Africa Speaks, America Answers: Modern Jazz in Revolutionary Times, explor
[...]
The 87th Academy Awards nominations will be announced January 15th but Oscar completionists can get a head start on the Documentary Features category thanks to the Academy's 15-film shortlist and Laemmle Theaters. The Academy's Documentary Branch narrowed the field to 15 from 134 submissions. While we've already screened many films, some are still in theaters, and five will play as morning shows over the next few weeks. By the time nominations are announced, every film on the shortlist will have played at one or more of our theaters... for those keeping track! Weekend morning shows in Claremont, North Hollywood, Pasadena, and West LA: 12
[...]
James Franco, Mila Kunis, Jessica Chastain, and Zach Braff star in THE COLOR OF TIME, a dramatic and riveting look at the life and work of iconic Pulitzer Prize-winning poet C.K. Williams. Williams (Franco) has a beautiful, adoring wife (Kunis) and a young son. But as he prepares for a reading in New York City and struggles to create new work, he is haunted by memories of his past—from his first sexual encounter to a later tragic loss. James Franco will participate in a Q&A after the 7:20 PM screening of THE COLOR OF TIME at the Music Hall on Saturday, December 13.