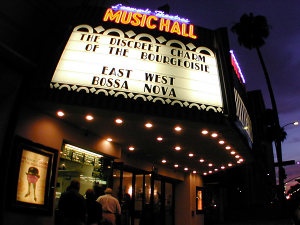 Music Hall 3
9036 Wilshire Blvd.
Beverly Hills, CA 90211
310-478-3836
Set as myTheatre
Get Tickets
Click a
BLUE SHOWTIME
to purchase tickets

90 min. NR

90 min. R

115 min. NR

99 min. PG-13

105 min. NR
MEDEAS is an intimate portrait of a rural family's inner lives and their relationship to a harsh and shifting landscape. Ennis, a stern, hard-working dairy farmer struggles to maintain control of his family and surrounding environment, while his wife, Christina, retreats into herself, progressively disconnecting from him and their five children. As tensions increase, each character must confront their yearnings and anxieties, culminating in a dangerous conflict between control and freedom, intimacy and alienation. A journey into the unpredictable boundaries of human behavior, MEDEAS explores the desperate lengths people are driven to by love
[...]
CineLife is a free mobile app that puts art house theaters and independent film first. We are pleased to be official CineLife Launch Partners! Designed for the film enthusiast, CineLife provides up-to-date information wherever you are. You can easily see what movies are playing, watch trailers, check reviews, find show times, and purchase tickets all in one place. You can even use your Laemmle Premiere Card! You'll never miss out on news, promotions, and special events like Q&As at your favorite Laemmle Theatres. CineLife also provides the latest indie film news from respected leaders and blogs in the art house community. Downloa
[...]
In the 1990's, singer-songwriter Milan Mumin, the lead singer of the hugely influential Serbian rock band Love Hunters, electrified and gave voice to a generation of Serbians fighting an oppressive regime. Now, after ten years, we find Milan in New York City, driving a taxi (long shifts and loopy fares), cobbling together funds for a recording session of his dream album—to be recorded and released in America. When his bass guitar player suddenly quits, he finds a talented but prickly replacement, and a romantic spark, in a free-spirited guitarist named Kim. Just as rehearsals start picking up steam, Milan's longtime Serbian girlfriend Lela ar
[...]
Forty years before WikiLeaks and the NSA scandal, there was Media, Pennsylvania. In 1971, eight activists plotted an intricate break-in to the local FBI offices to leak stolen documents and expose the illegal surveillance of ordinary Americans in an era of anti-war activism. In this riveting heist story, the perpetrators reveal themselves for the first time, reflecting on their actions and raising broader questions surrounding security leaks and activism today. In his New Yorker review, Richard Brody wrote that 1971, directed by Johanna Hamilton and co-produced by Laura Poitras (director of Citizenfour), "unpacks a crucial but little-known ep
[...]
In the new action-suspense-thriller EVERLY, Salma Hayek stars as a woman who faces down assassins sent by her ex, a mob boss, while holed up in her apartment. We open EVERLY at the Music Hall on February 27 and on Saturday, February 28 the director Joe Lynch, along with cast members Gabriella Wright, Akie Kotabe, Jen Blanc-Biehn and Caroline Chikezie and co-producer Brett Hedblom, will introduce the 9:55 PM screening and participate in a Q&A afterward, as well as autograph and give away EVERLY posters to the first 30 ticket buyers who take and post a picture of the event and tag themselves, @everlymovie and @musichall on social media.
[...]