This Just In...
Meet the EVERLY cast and crew this Saturday night at the Music Hall...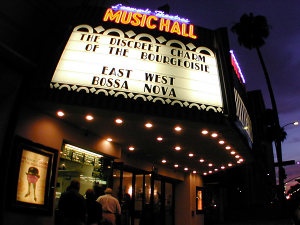 Music Hall 3
9036 Wilshire Blvd.
Beverly Hills, CA 90211
310-478-3836
Set as myTheatre
Get Tickets
Click a
BLUE SHOWTIME
to purchase tickets

90 min. NR
12:10pm
|
2:30pm
|
4:50pm
|
7:10pm
|
9:30pm

114 min. R

80 min. PG-13

141 min. R

97 min. PG-13
12:00pm
|
2:30pm
|
5:00pm
|
7:30pm
In the new action-suspense-thriller EVERLY, Salma Hayek stars as a woman who faces down assassins sent by her ex, a mob boss, while holed up in her apartment. We open EVERLY at the Music Hall on February 27 and on Saturday, February 28 the director Joe Lynch, along with cast members Gabriella Wright, Akie Kotabe, Jen Blanc-Biehn and Caroline Chikezie and co-producer Brett Hedblom, will introduce the 9:55 PM screening and participate in a Q&A afterward, as well as autograph and give away EVERLY posters to the first 30 ticket buyers who take and post a picture of the event and tag themselves, @everlymovie and @musichall on social media.
[...]
They live in all four corners of the planet and share a thirst for knowledge. Almost instinctively they know that their well-being, indeed their survival, depends on knowledge and education. From the dangerous savannahs of Kenya to the winding trails of the Atlas Mountains in Morocco; from the suffocating heat of southern India to the vast, dizzying plateaus of Patagonia, these children are all united by the same quest, the same dream. Jackson, Zahira, Samuel and Carlito are the heroes of ON THE WAY TO SCHOOL, a film that interweaves portraits of four pupils forced to confront and overcome countless, often dangerous obstacles – enormous dista
[...]
The Academy Awards air this Sunday which means entries for our Umpteenth Annual Oscar Contest are due Sunday morning. The person who most accurately predicts the Academy of Motion Picture Arts and Science's choices wins ten pairs of passes, second place wins eight pairs and third place wins six pairs. The best way to up your Oscar game is to see the nominees. Watching THE 2015 OSCAR-NOMINATED SHORTS ANIMATED, DOCUMENTARY, and LIVE ACTION will certainly put you ahead of the pack. Best Foreign Film nominees LEVIATHAN and TIMBUKTU expand to Claremont and NoHo this Friday. IDA is playing in Beverly Hills. Unfortunately, WILD TALES and TANGE
[...]
WHITE RABBIT follows Harlon Mackey, who has been tormented by visions since his alcoholic father forced him to kill an innocent rabbit while hunting as a boy. Now that Harlon is a bullied high school teen, his undiagnosed mental illness is getting worse. He begins to hear voices, and his imagination encourages him to carry out violent acts. Things begin to look up when Julie, a rebellious young girl, moves to town and befriends Harlon. But when she betrays him, the rabbit along with other imaginary comic book characters taunt him into committing one final act of revenge. WHITE RABBIT lead actors Nick Krause and Sam Trammell will participat
[...]
Celebrating its fifth fantastic year, Globe On Screen returns in 2015 to Laemmle's Culture Vulture series with a brand new season of sell-out performances and captivating theatre from the London home of Shakespeare. Globe On Screen offers audiences a ticket to the best seat in the house from the comfort of a your nearest Laemmle Theater and the chance to experience the unique magic of the world-famous Globe, all captured in high definition and full surround sound. The fifth season contains five thrilling new productions, featuring the critically-acclaimed The Duchess of Malfi (March 2 and 3) starring Gemma Arterton, the inaugural produc
[...]