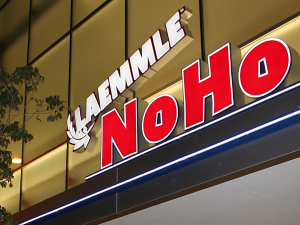 NoHo 7
5240 Lankershim Blvd.
North Hollywood, CA 91601
310-478-3836
Set as myTheatre
Get Tickets
Click a
BLUE SHOWTIME
to purchase tickets

24 min.

97 min. NR

R

111 min. R

117 min. PG

92 min. NR
1:00pm
|
3:20pm
|
5:35pm
|
7:50pm
|
10:15pm

14 min.

85 min. NR
In STRAIGHT OUTTA TOMPKINS, Zephyr Benson stars as a forlorn teenager abandoned in New York City who mistakes the welcoming embrace of a Lower East Side drug dealer for the love of family. Quickly falling in with a fast crowd and surfing a high of mixology, pills and the absurdity of the party lifestyle, he quickly learns that these friends come with a price. We open STRAIGHT OUTTA TOMPKINS this Friday at the NoHo 7. Writer-director-lead actor Zephyr Benson and producer David Rudd will participate in Q&A's after the 7:50 PM screening on Saturday, March 7th and after the 3:20 screening on Sunday, March 8th.
FAREWELL TO HOLLYWOOD is a love story unlike any you've seen before. The life's wish of a terminally ill 17-year-old girl, Regina Diane Nicholson, leads to a deep, loving, and controversial relationship with 55-year-old filmmaker, Henry Corra. With mortality's clock relentlessly ticking, Reggie risks everything to fight for the life, art and love she chooses. Farewell to Hollywood is a raw, unexpected love story, both record and flower of the clear-eyed but utterly romantic commitment of two people to art, poetry, care and the potential beauty of every moment together, to the very end. FAREWELL TO HOLLYWOOD filmmaker Henry Corra will intro
[...]
Built around the stories of heavyweight boxing legends Mike Tyson, Evander Holyfield and Bernard Hopkins, who open up about their lives and careers as never before, CHAMPS balances these uncensored recollections with gorgeous reenactments, classic fight footage, and candid interviews with famous fans. More than just a sports documentary, CHAMPS examines what it means to pursue the American Dream through boxing, painting a picture of a controversial and unregulated sport in a moment of crisis. We are pleased to open CHAMPS at our North Hollywood theater on Friday, March 13. Mr. Holyfield, along with filmmaker Bert Marcus, will participate i
[...]
What if the ghastly images and abominations haunting our collective nightmares actually exist? Writer/director Adam Green (Hatchet) sets out to make a documentary exploring this tantalizing premise after being contacted by a mysterious man named William Dekker (Ray Wise). Dekker claims he can prove that "monsters are real" and insists these grotesque creatures are forgotten, hideously deformed humanoids inhabiting a vast, underground metropolis of the damned. Determined to expose the truth, Green embarks on a bone-chilling odyssey and gets more than he bargains for when he dares to go Digging Up the Marrow. We open DIGGING UP THE MARROW at
[...]
Eric Schaeffer's new film, BOY MEETS GIRL, is a poignant, sexy, romantic coming-of-age comedy about three twenty year olds living in Kentucky: Robby, (Michael Welch, Twilight) and his best friend since childhood, Ricky, a gorgeous transgender girl, have never dated. Lamenting the lack of eligible bachelors, Ricky considers dating a girl. In walks Francesca, a beautiful young debutante waiting for her Marine fiancé to return from the war. Ricky and Francesca strike up a friendship, and maybe a little more, which forces Robby to face his true feelings for Ricky. This is a sex/human positive modern fable and identification with its story crosses
[...]