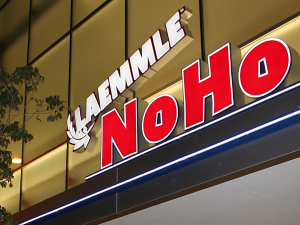 NoHo 7
5240 Lankershim Blvd.
North Hollywood, CA 91601
310-478-3836
Set as myTheatre
Get Tickets
Click a
BLUE SHOWTIME
to purchase tickets
88 min. NR

117 min.

105 min.
In the vein of crime classics like MEAN STREETS and INFERNAL AFFAIRS, REVENGE OF THE GREEN DRAGONS follows two immigrant brothers Sonny (Justin Chon) and Steven (Kevin Wu), who survive the impoverished despair of New York in the 1980s by joining Chinatown gang "The Green Dragons." The brothers quickly rise up the ranks, drawing the unwanted attention of hard-boiled city cops. After an ill-fated love affair pits Sonny against his own brother, he sets out for revenge against the very gang who made him who he is. Join actors Leonard Wu and Eugenia Yuan from REVENGE OF THE GREEN DRAGONS†at the 7:30 screening Friday night, October 24 at the NoH
[...]
Don't forget to enter our A FULLER LIFE Sweepstakes. You can win a private tour of Samuel Fuller's personal study where he wrote such films as WHITE DOG. A FULLER LIFE, which we are pleased to open at the NoHo 7 this Friday,†celebrates the independent spirit of a true American maverick, Sam Fuller, whose unique output broke new ground in journalism, filmmaking, storytelling and even service to his country. The story takes us through highlights of Mr. Fullerís unconventional and adventurous life spanning a century of American history, a great manís great yarn, a love song to democracy, and a hymn to independence, originality, and endurance.
[...]
BORN TO FLY: ELIZABETH STREB VS. GRAVITY filmmaker Catherine Gund and acclaimed choreographer/aerialist Elizabeth Streb will participate in Q&A's at the NoHo after the 7:30 PM screening on Friday, September 26 and after the 1 PM screening on Saturday, September 27. [caption id="attachment_4041" align="alignleft" width="250" caption="Elizabeth Streb"][/caption] [caption id="attachment_4042" align="alignleft" width="580" caption="Catherine Gund"][/caption]
COPENHAGEN lead actor Gethin Anthony (Game of Thrones) and writer-director Mark Raso will participate in Q&A's after the 7:10 PM screenings at the NoHo on opening weekend, Friday and Saturday, October 3 and 4.
I AM ELEVEN filmmaker†Genevieve Bailey visited KCAL 9 for an interview recently: