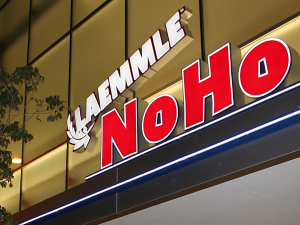 NoHo 7
5240 Lankershim Blvd.
North Hollywood, CA 91601
310-478-3836
Set as myTheatre
Get Tickets
Click a
BLUE SHOWTIME
to purchase tickets

117 min. PG-13
80 min.

98 min. NR
94 min. NR
131 min. PG-13

104 min. PG

33 min.
102 min. NR
124 min. R
278 min. NR
Greg Laemmle, Team LACBC and our contest winners embark on Climate Ride 2015 this Sunday, May 17th! Follow Greg on Twitter (@greglaemmle) for the latest ride updates as he makes his way from California's historic Redwood Empire near Eureka, along the scenic coast, and into the famed Russian River Valley before crossing the Golden Gate Bridge into San Francisco. We're halfway to our fundraising goal and your help could put us over the top. Just purchase one (or more) of our tasty Climate Ride Concession Specials the next time you see a movie at any of our locations. When you purchase a - • CLIF BAR, we give $1 to Climate Ride Califor
[...]
Through the eyes, words and songs of its popular music stars of the 50's, 60's, and 70's, DON'T THINK I'VE FORGOTTEN: CAMBODIA'S LOST ROCK & ROLL examines and unravels Cambodia's tragic past. Combining interviews with surviving musicians and never-before-seen archival material and rare songs, the film tracks the winding course of Cambodian music as it morphs into a unique style of rock and roll. A vibrant musical culture that was nearly lost forever under the brutal Khmer Rouge regime is revived and celebrated. DON'T THINK I'VE FORGOTTEN filmmaker John Pirozzi will participate in Q&A's after the 7:10 screenings at the NoHo on Frida
[...]
After the passing of his mother, Vincent (Robert Sheehan), a young man with Tourette syndrome, begins treatment at a center for those dealing with similar psychological disorders. Soon he finds company in Marie (Zoë Kravitz), a young woman at the center for her anorexia, and Alex (Dev Patel), his OCD-stricken roommate. These unlikely companions, with clashing personalities, find themselves on an eventful three-day journey that cements their friendship. With Dr. Rose (Kyra Sedgwick), the head of the center, and Vincent's father (Robert Patrick) in pursuit, Vincent, Marie and Alex learn they're perfectly capable of living their lives according
[...]
SHE'S LOST CONTROL director Anja Marquardt will participate in Q&A's after the 7:50 PM screenings at the NoHo Friday through Sunday, March 27-29. Producer-composer Simon Taufique, actress Lila Robbins and production designer David Meyer will join her for the Friday screening.
In EFFIE GRAY, actress-screenwriter Emma Thompson portrays the forbidden realms of Victorian society through the true story of the marriage of Effie Gray and renowned art critic John Ruskin, exposing a secret world of unrequited passion hidden behind the veil of an opulent public life. Set in an era when neither divorce nor homosexuality were tolerated, EFFIE GRAY is the story of a beautiful young woman coming of age, and finding her own voice in a world where women were expected to be seen but not heard. Within the lush environs of a world brimming with art, painting, high society and feverishly bucolic scenes of the Scottish countryside, EF
[...]