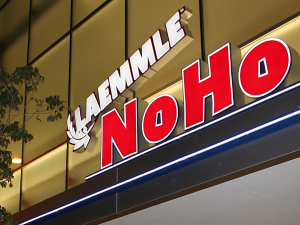 NoHo 7
5240 Lankershim Blvd.
North Hollywood, CA 91601
310-478-3836
Set as myTheatre
Get Tickets
Click a
BLUE SHOWTIME
to purchase tickets

123 min. R

9 min.

98 min. R

22 min.

91 min. R

88 min. NR

21 min.

103 min. R
I AM ELEVEN filmmaker Genevieve Bailey visited KCAL 9 for an interview recently:
THE FRONTIER filmmaker Matt Rabinowitz will participate in a Q&A after the 7:40 PM screening at the NoHo on Friday, September 19.
Child hip hop artist Lil' P-Nut, one of the artists featured in TAKE ME TO THE RIVER, will participate in a Q&A after the 7 PM screening on Friday, September 12. [caption id="attachment_3921" align="alignleft" width="443" caption="Lil' P-Nut"][/caption]
A reminder that Laemmle's Culture Vulture Mondays starts this Monday! We pick the best from the world of ballet, opera, stage, and fine art to feature on the big screen every Monday* at 7:30PM at every Laemmle location! Can't make it Monday at 7:30PM? No problem! Catch discounted encore presentations Tuesdays at 1PM. Future presentations include LA TRAVIATA from the Opera National de Paris, the ballet LA BAYADERE from Russia's Mariinsky Theatre, and a guided tour through the works of MATISSE from London's Tate Modern museum. Visit our oft-updated Culture Vulture page for the latest information on upcoming selections. Laemmle's Cultur
[...]
Matthew Weiner, best known as the creator of Mad Men, has written and directed his first feature film. ARE YOU HERE is a comedy starring Owen Wilson, Zach Galifianakis and Amy Poehler. We are pleased to welcome Mr. Weiner to the NoHo 7, where he will participate in a Q&A after the 1:20 PM screening of his film on Sunday, August 24. [caption id="attachment_3761" align="alignleft" width="568" caption="Matthew Weiner"][/caption]