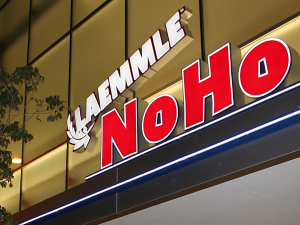 NoHo 7
5240 Lankershim Blvd.
North Hollywood, CA 91601
310-478-3836
Set as myTheatre
Get Tickets
Click a
BLUE SHOWTIME
to purchase tickets

92 min. NR

83 min. NR

142 min. PG-13

144 min. PG-13

120 min. R

124 min. NR

123 min. PG-13
LIFE INSIDE OUT tells the story of Laura, the mother of three teenage boys, and her youngest son Shane, the family misfit and a disappointment to his father. When Laura stumbles upon her long forgotten guitar, she is taken under its spell and rediscovers her love for song writing. LIFE INSIDE OUT director Jill D'Agnenica and lead actress Maggie Baird will participate in Q&A's after the 11 AM screenings at the NoHo on Saturday and Sunday, December 13 and 14. Producer Tessa Bell will join them for the Sunday screening.
The 87th Academy Awards nominations will be announced January 15th but Oscar completionists can get a head start on the Documentary Features category thanks to the Academy's 15-film shortlist and Laemmle Theaters. The Academy's Documentary Branch narrowed the field to 15 from 134 submissions. While we've already screened many films, some are still in theaters, and five will play as morning shows over the next few weeks. By the time nominations are announced, every film on the shortlist will have played at one or more of our theaters... for those keeping track! Weekend morning shows in Claremont, North Hollywood, Pasadena, and West LA: 12
[...]
A animated classic, Paul Grimault's THE KING AND THE MOCKINGBIRD, written by Grimault and legendary poet and screenwriter Jacques Prévert, has been restored and after many decades finally getting a theatrical release in the United States. Based on a Hans Christian Andersen story, this wildly satirical film follows a chimney sweep and shepherdess on the run from a tyrannical king. A masterpiece of traditional hand-drawn cell animation, THE KING AND THE MOCKINGBIRD is credited by celebrated Japanese animators Hayao Miyazaki and Isao Takahata as inspiring the creation of their own studio, the now world-famous Studio Ghibli. Its influence can als
[...]
THE IMMORTALISTS is the story of two eccentric scientists struggling to discover medical breakthroughs to create eternal youth. And yet they fight to gain support for their cause in our world, which they call a world "blind to the tragedy of old age." Bill Andrews is a lab biologist and famed long-distance runner racing against the ultimate clock. Aubrey de Grey is a genius theoretical biologist who conducts his research with a beer in hand. They differ in style and substance, but are united in their common crusade: to cure aging or die trying. They publicly brawl with the old guard of biology who argue that curing aging is neither possible n
[...]
A troubled young man and his straight-laced niece embark on a thrilling odyssey through New York City in the heartrending drama BEFORE I DISAPPEAR, based on an Oscar-winning short. As his life hits rock bottom, twenty-something Richie decides to end it all, only to have his half-hearted suicide attempt interrupted by an urgent request from his sister to baby-sit her precocious daughter. So begins a madcap tour of Manhattan after dark, as uncle and niece find unexpected bonds in the unlikeliest of places. BEFORE I DISAPPEAR actor Paul Wesley will participate in a Q&A after the 1 PM screening at the NoHo on Sunday, December 7. Producer T
[...]