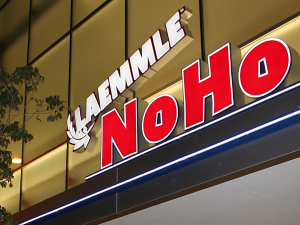 NoHo 7
5240 Lankershim Blvd.
North Hollywood, CA 91601
310-478-3836
Set as myTheatre
Get Tickets
Click a
BLUE SHOWTIME
to purchase tickets
RED SHOWTIMES
are sold out

108 min. R

123 min. PG-13

169 min. PG-13

71 min. NR

137 min. PG

123 min. PG-13
LITTLE HOPE WAS ARSON producer Bryan Storkel will participate in Q&A's after the 7 PM screenings at the NoHo on Friday and Saturday, November 28 and 29.
The woman behind our Art in the Arthouse exhibition "Mary Woronov: Something About Mary," on view at the NoHo 7 through December 15, was recently profiled by KCET. It's by the award-winning arts journalist Victoria Looseleaf, features a generous selection of Woronov's striking pieces and begins "At almost 71 years old,†Mary Woronov†is still a beauty whose quick wit, sharp mind and striking countenance belie the decades. Born in Palm Beach's five-star Breakers Hotel in 1943 -- then a converted hospital during World War II, she recalled. "It was a mistake," Woronov, her gray eyes matching her stylishly cut gray hair, the latter tinged with m
[...]
It's been said that the first 21 years defines the career of an artist. Few directors have single-handedly shaken up the film establishment like the godfather of indie, Richard Linklater. From the groundbreaking SLACKER to his innovative BOYHOOD, Linklater has reached the 21-year mark and has unapologetically carved his signature into American pop culture. 21 YEARS: RICHARD LINKLATER offers a raw and honest perspective on Richard through candid conversations with his collaborators. Tara Wood, co-director of the new documentary 21 YEARS: RICHARD LINKLATER, will participate in a Q&A after the 7:40 screening at the NoHo on Friday, Novembe
[...]
In the vein of crime classics like MEAN STREETS and INFERNAL AFFAIRS, REVENGE OF THE GREEN DRAGONS follows two immigrant brothers Sonny (Justin Chon) and Steven (Kevin Wu), who survive the impoverished despair of New York in the 1980s by joining Chinatown gang "The Green Dragons." The brothers quickly rise up the ranks, drawing the unwanted attention of hard-boiled city cops. After an ill-fated love affair pits Sonny against his own brother, he sets out for revenge against the very gang who made him who he is. Join actors Leonard Wu and Eugenia Yuan from REVENGE OF THE GREEN DRAGONS†at the 7:30 screening Friday night, October 24 at the NoH
[...]
Don't forget to enter our A FULLER LIFE Sweepstakes. You can win a private tour of Samuel Fuller's personal study where he wrote such films as WHITE DOG. A FULLER LIFE, which we are pleased to open at the NoHo 7 this Friday,†celebrates the independent spirit of a true American maverick, Sam Fuller, whose unique output broke new ground in journalism, filmmaking, storytelling and even service to his country. The story takes us through highlights of Mr. Fullerís unconventional and adventurous life spanning a century of American history, a great manís great yarn, a love song to democracy, and a hymn to independence, originality, and endurance.
[...]