This Just In...
Sweepstakes: Win a tour of iconoclastic filmmaker Samuel Fuller's personal study! Click below for details.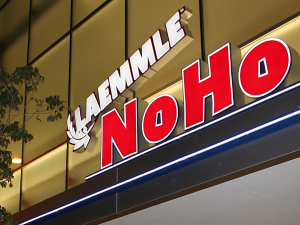 NoHo 7
5240 Lankershim Blvd.
North Hollywood, CA 91601
310-478-3836
Set as myTheatre
Get Tickets
Click a
BLUE SHOWTIME
to purchase tickets

100 min. NR

112 min. R

119 min. R

182 min. NR

100 min. R
BORN TO FLY: ELIZABETH STREB VS. GRAVITY filmmaker Catherine Gund and acclaimed choreographer/aerialist Elizabeth Streb will participate in Q&A's at the NoHo after the 7:30 PM screening on Friday, September 26 and after the 1 PM screening on Saturday, September 27. [caption id="attachment_4041" align="alignleft" width="250" caption="Elizabeth Streb"][/caption] [caption id="attachment_4042" align="alignleft" width="580" caption="Catherine Gund"][/caption]
COPENHAGEN lead actor Gethin Anthony (Game of Thrones) and writer-director Mark Raso will participate in Q&A's after the 7:10 PM screenings at the NoHo on opening weekend, Friday and Saturday, October 3 and 4.
I AM ELEVEN filmmaker Genevieve Bailey visited KCAL 9 for an interview recently:
THE FRONTIER filmmaker Matt Rabinowitz will participate in a Q&A after the 7:40 PM screening at the NoHo on Friday, September 19.
Child hip hop artist Lil' P-Nut, one of the artists featured in TAKE ME TO THE RIVER, will participate in a Q&A after the 7 PM screening on Friday, September 12. [caption id="attachment_3921" align="alignleft" width="443" caption="Lil' P-Nut"][/caption]