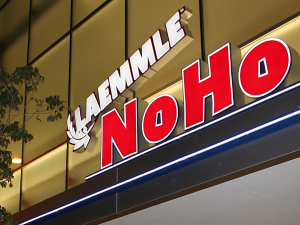 NoHo 7
5240 Lankershim Blvd.
North Hollywood, CA 91601
310-478-3836
Set as myTheatre
Get Tickets
Click a
BLUE SHOWTIME
to purchase tickets

132 min. R

121 min. PG-13

114 min. PG-13

113 min. R
As seen in the documentary AMERICAN BEAR, Sarah and Greg set out to critically explore American culture, compassion, and fear by relying on the kindness of strangers for a home each night. Traveling through 30 states in 60 days, they spend every day in a new town, learning why people may or may not be willing to open their homes. Sarah and Greg spend time getting to know their hosts – each uniquely, culturally American – while the film raises questions about how we define American identities. AMERICAN BEAR co-directors Gregory Grano and Sarah Sellman will participate in Q&A's after both the January 28 screening at the NoHo 7 and the Ja
[...]
When a teenage boy goes missing in a small town already devastated by a fatal mining accident, three strangers find themselves drawn together in a tangle of secrets, lies, and the collective grief of the community. Elizabeth Banks, Josh Lucas and Boyd Holbrook star in the new indie drama LITTLE ACCIDENTS. LITTLE ACCIDENTS cinematographer Rachel Morrison will participate in a Q&A moderated by Hilari Scarl of the Alliance of Women Directors after the 7 PM screening at the NoHo 7 on Saturday, January 17.
It's time for our 3rd Annual Ride with Greg Laemmle Climate Ride Contest!  Don't miss your chance to participate in this life-altering event.  Last year our team was 14 strong and we're expecting to surpass that number for 2015.  Join us and become part of our amazing group! What's more, tell us why you want to ride with Greg and you could win an Unlimited Laemmle Movie Pass for the remainder of 2015, free registration for Climate Ride California, and a $2500 contribution toward your Climate Ride fundraising goal from the Laemmle Charitable Foundation.  See the second and third prize packages, eligibility requirements, and all contest deta
[...]
It was truly troubling when craven hackers punched holes in Sony Pictures Entertainment, data dumping private email and employees' personal information for anyone with an Internet connection to peruse, but when the so-called Guardians of Peace successfully got Sony to shelve THE INTERVIEW, it was shocking. Fortunately, the nation's independent cinemas stepped up, offering a couple hundred screens in defiance of the terrorists. The latest Seth Rogan/James Franco comedy/bromance is not in Laemmle Theatres' wheelhouse, but of course we feel rather strongly about the First Amendment and are pleased to open THE INTERVIEW at the Music Hall on Chris
[...]
This coming Christmas Eve (Dec. 24) we will celebrate the 50th Anniversary of the Broadway production with our 7th Annual Fiddler On the Roof Sing-Along! Join us (at any of our venues) for our traditional, yet non-traditional Christmas Eve experience as we sing along with Tevye and the shtetl to iconic favorites like "Tradition", "If I Were a Rich Man", "Matchmaker", "To Life", "Sunrise Sunset" and many others. GET TICKETS to the event before it sells out! In addition to movie and song, the audience will be regaled with Fiddler history and trivia, with prizes being awarded to Fiddler buffs with the quickest recall. In this "a
[...]