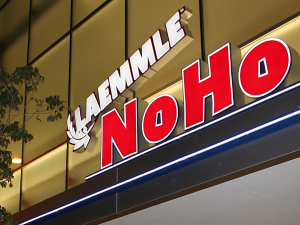 NoHo 7
5240 Lankershim Blvd.
North Hollywood, CA 91601
310-478-3836
Set as myTheatre
Get Tickets
Click a
BLUE SHOWTIME
to purchase tickets

92 min. NR

105 min. NR

105 min. NR

92 min. NR

117 min. PG

90 min. NR

122 min. R

101 min. PG
SHE'S LOST CONTROL director Anja Marquardt will participate in Q&A's after the 7:50 PM screenings at the NoHo Friday through Sunday, March 27-29. Producer-composer Simon Taufique, actress Lila Robbins and production designer David Meyer will join her for the Friday screening.
In EFFIE GRAY, actress-screenwriter Emma Thompson portrays the forbidden realms of Victorian society through the true story of the marriage of Effie Gray and renowned art critic John Ruskin, exposing a secret world of unrequited passion hidden behind the veil of an opulent public life. Set in an era when neither divorce nor homosexuality were tolerated, EFFIE GRAY is the story of a beautiful young woman coming of age, and finding her own voice in a world where women were expected to be seen but not heard. Within the lush environs of a world brimming with art, painting, high society and feverishly bucolic scenes of the Scottish countryside, EF
[...]
MARFA GIRL, the new film from visionary director Larry Clark (Kids, Ken Park, Bully), follows Adam, a directionless 16-year-old living in the working class U.S./Mexico border town of Marfa, Texas, and his sexual relationships with his teenage girlfriend; twenty-something neighbor; aggressive local artist; and high school teacher, while an unhinged, misogynistic border patrol agent watches over the neighborhood. What ensues is a web of sex, drugs, and violence as the Latino skater punks adjust to their gritty, aimless life in the dead end town. MARFA GIRL actors Jeremy St. James and Indigo Rael, along with producer Adam Sherman and cinemato
[...]
OCCUPY THE FARM tells the inspiring story of urban farmers fighting to save the last farmland in their East-Bay community. OCCUPY THE FARM's cameras witnessed the dramatic and rapid evolution of tactics and strategy of both the farmers and their adversaries – officials from the University of California. Join director Todd Darling and guests after each screening for Q&A sessions. SCREENINGS: Monday, March 30 at 7:30PM at the NoHo 7 in North Hollywood. Mr. Darling will be joined by South Central Farmer's Cooperative leader/activist and subject of THE GARDEN, Tezozomoc. Purchase tickets here. Tuesday, March 31 at 7:30PM at the Cl
[...]
CicLAvia will make the San Fernando Valley its home on March 22 when Metro Presents CicLAvia – The Valley takes place from 9 AM to 4 PM. The first CicLAvia of 2015 represents the inaugural visit of L.A.'s renowned open streets event to the storied Valley. Participants will be able to travel between North Hollywood and Studio City on car-free streets, using foot, pedal and non-motorized wheel power. [caption id="attachment_5469" align="alignleft" width="300" caption="route map for Sunday"][/caption] The event runs 5 1/2 miles along Lankershim Boulevard between the North Hollywood Metro Red Line stop at Chandler Boulevard and the Universa
[...]