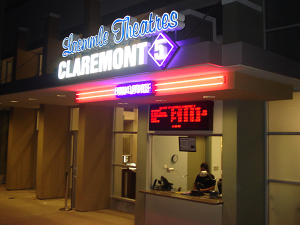 Claremont 5
450 West 2nd Street
Claremont, CA 91711
310-478-3836
Set as myTheatre
Get Tickets
Click a
BLUE SHOWTIME
to purchase tickets

144 min. PG-13

120 min. R

165 min.

123 min. PG-13
This coming Christmas Eve (Dec. 24) we will celebrate the 50th Anniversary of the Broadway production with our 7th Annual Fiddler On the Roof Sing-Along! Join us (at any of our venues) for our traditional, yet non-traditional Christmas Eve experience as we sing along with Tevye and the shtetl to iconic favorites like "Tradition", "If I Were a Rich Man", "Matchmaker", "To Life", "Sunrise Sunset" and many others. GET TICKETS to the event before it sells out! In addition to movie and song, the audience will be regaled with Fiddler history and trivia, with prizes being awarded to Fiddler buffs with the quickest recall. In this "a
[...]
The 87th Academy Awards nominations will be announced January 15th but Oscar completionists can get a head start on the Documentary Features category thanks to the Academy's 15-film shortlist and Laemmle Theaters. The Academy's Documentary Branch narrowed the field to 15 from 134 submissions. While we've already screened many films, some are still in theaters, and five will play as morning shows over the next few weeks. By the time nominations are announced, every film on the shortlist will have played at one or more of our theaters... for those keeping track! Weekend morning shows in Claremont, North Hollywood, Pasadena, and West LA: 12
[...]
We are experiencing intermittent issues with our internet connection thanks to our internet service provider. Unfortunately, we lose the ability to display showtimes and sell tickets online when the internet is down. You can still purchase tickets in person at the box office. Sorry, no telephone sales. This weekend's showtimes are below. Matinee shows are in parentheses.
I AM ELEVEN filmmaker Genevieve Bailey visited KCAL 9 for an interview recently:
A reminder that Laemmle's Culture Vulture Mondays starts this Monday! We pick the best from the world of ballet, opera, stage, and fine art to feature on the big screen every Monday* at 7:30PM at every Laemmle location! Can't make it Monday at 7:30PM? No problem! Catch discounted encore presentations Tuesdays at 1PM. Future presentations include LA TRAVIATA from the Opera National de Paris, the ballet LA BAYADERE from Russia's Mariinsky Theatre, and a guided tour through the works of MATISSE from London's Tate Modern museum. Visit our oft-updated Culture Vulture page for the latest information on upcoming selections. Laemmle's Cultur
[...]