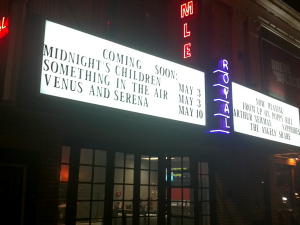 Royal
11523 Santa Monica Blvd.
West L.A., CA 90025
310-478-3836
Set as myTheatre
Get Tickets
Click a
BLUE SHOWTIME
to purchase tickets

95 min. PG-13
An Israeli woman (Ronit Elkabetz) seeking to finalize a divorce (gett) from her estranged husband finds herself effectively put on trial by her country's religious marriage laws, in GETT: THE TRIAL OF VIVIANE AMSALEM, a powerhouse courtroom drama and Oscar nominee for Best Foreign Language Film from sibling directors Shlomi and Ronit Elkabetz. Laemmle Theatres opens the film at the Royal on February 13, the Playhouse, Town Center 5 and Claremont 5 on February 20 and the NoHo 7 on February 27. In Israel, there is neither civil marriage nor civil divorce; only Orthodox rabbis can legalize a union or its dissolution, which is only possible wi
[...]
MONK WITH A CAMERA chronicles the life and spiritual quest of Nicholas (Nicky) Vreeland, who for the past twenty-eight years has been a Tibetan Buddhist monk. The son of a United States Ambassador, grandson of legendary Vogue editor Diana Vreeland, and a photographer by trade, Nicky left his privileged life behind to follow his true calling. He moved to India, cutting his ties with society, photography, and his pleasure-filled world, to live in a monastery with no running water or electricity. MONK WITH A CAMERA co-directors Tina Mascara and Guido Santi will participate in Q&A's after the 11 AM screenings at the Royal on Saturday and S
[...]
In 1948, a group of World War II pilots volunteered to fight for Israel in the War of Independence. As members of 'Machal' -- volunteers from abroad -- this ragtag band of brothers not only turned the tide of the war, preventing the possible annihilation of Israel at the very moment of its birth; they also laid the groundwork for the Israeli Air Force. ABOVE AND BEYOND is their story. The first major feature-length documentary about the foreign airmen in the War of Independence, ABOVE AND BEYOND brings together new interviews with pilots from the '48 War, as well as leading scholars and statesmen, including Shimon Peres, to present an extraor
[...]
Since its 1982 release THE LAST UNICORN has enchanted audiences everywhere with its moving story about a unicorn trying to find and rescue her lost people, and the price she pays for bringing magic back into the world. Considered one of the great fantasies of the last century, the original novel has sold over six million copies in 25 languages, while the film adaptation has sold more than four million home video copies in America in just the last nine years. THE LAST UNICORN novelist/screenwriter Peter Beagle will introduce all Laemmle screenings.
Internationally acclaimed Turkish filmmaker Nuri Bilge Ceylan has won prizes at major film festivals all over the world, but it wasn't until last May, after being nominated four times, that he finally took home what is probably the topmost prize of all, the Cannes Film Festival's Palme d'Or. It was for WINTER SLEEP, a "richly engrossing and ravishingly beautiful magnum opus" about Aydin, a former actor who runs a small hotel in central Anatolia with his young wife Nihal and his sister Necla, who is recovering from her recent divorce. "A Chekhovian meditation on a marriage that returns to the mood of the director's early films like Climates an
[...]