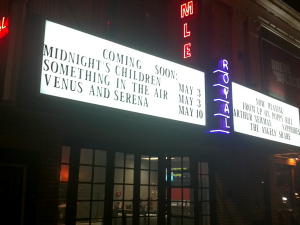 Royal
11523 Santa Monica Blvd.
West L.A., CA 90025
310-478-3836
Set as myTheatre
Get Tickets
Click a
BLUE SHOWTIME
to purchase tickets

76 min. NR

92 min. NR

106 min. PG-13

182 min. NR

98 min. PG-13

121 min. NR
AWAKE: THE LIFE OF YOGANANDA is an unconventional biography about the Hindu Swami who brought yoga and meditation to the West in the 1920s. Paramahansa Yogananda authored the spiritual classic "Autobiography of a Yogi," which has sold millions of copies worldwide and is a go-to book for seekers, philosophers and yoga enthusiasts today. By personalizing his own quest for enlightenment and sharing his struggles along the path, Yogananda made ancient Vedic teachings accessible to a modern audience. AWAKE: THE LIFE OF YOGANANDA co-director Lisa Leeman will be at the Royal this weekend to participate in Q&A's after the Saturday and Sunday m
[...]
WATCHERS OF THE SKY producer Amelia Green-Dove will participate in Q&A's at the Royal after the 7 PM screenings on Saturday, October 18 and Monday, October 20, and after the 1 and 4 PM screenings on Sunday, October 19. She'll do the same after the 7 PM screening at the Town Center 5 in Encino on Tuesday, October 21.
E-TEAM follows the high-stakes work of four fiercely intrepid human rights investigators who are the first on the ground in war torn countries like Syria and Libya to record and expose human rights violations in the midst of devastating wars. E-TEAM filmmakers Ross Kauffman and Katie Chevigny will participate in Q&A's at the Royal after the 7:45 screenings on Friday and Saturday, October 24 and 25. [caption id="attachment_4208" align="alignleft" width="192" caption="Ross Kauffman"][/caption] [caption id="attachment_4206" align="alignleft" width="240" caption="Katy Chevigny"][/caption]
What's it like to try to get to know a flying dinosaur? In PELICAN DREAMS, Sundance and Emmy Award-winning filmmaker Judy Irving ("The Wild Parrots of Telegraph Hill") follows a wayward California brown pelican from her "arrest" on the Golden Gate Bridge into care at a wildlife rehabilitation facility, and from there explores pelicans' nesting grounds, Pacific coast migration, and survival challenges. Ms. Irving will attend several screenings on opening weekend to do Q&A's: after the 7:30 PM screenings Friday, November 7 at the Royal and Saturday, November 8 at the Playhouse. [caption id="attachment_4146" align="alignleft" width="58
[...]
HIROSHIMA MON AMOUR is the late Alain Resnais' seminal debut film. A pillar of the French New Wave, long unavailable for exhibition in the United States due to rights issues, HIROSHIMA has been spectacularly restored. We open the film on October 17 at the Royal, Playhouse and Town Center. Employing a radical use of voice-over narration and quickly-flashbacked scenes, the film tells the story of a brief relationship in post-war Japan between a French actress, played by Oscar nominee Emmanuelle Riva (Amour), and a Japanese architect, played by Eiji Okada (Woman in the Dunes). The Oscar-nominated screenplay was written by Marguerite Duras, wh
[...]