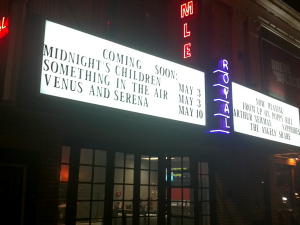 Royal
11523 Santa Monica Blvd.
West L.A., CA 90025
310-478-3836
Set as myTheatre
Get Tickets
Click a
BLUE SHOWTIME
to purchase tickets

104 min. PG-13

108 min. PG-13

84 min. PG

122 min. R
Right to Die laws were back in the news following the November 1, 2014 death of Brittany Maynard.  Maynard was a California resident who moved to Oregon to take advantage of that state's Death With Dignity law.  Since her death, two California State Senators have proposed a similar measure in California. Serving as an entry point to discussing this issue is the hit Israeli comedy (yes, comedy), THE FAREWELL PARTY. Together with Cedars Sinai Medical Center, we are pleased to offer an advance screening of THE FAREWELL PARTY on Tuesday, April 28 at 7:30 PM at the Music Hall Theatre in Beverly Hills.  The screening is part of the Jewish
[...]
ALEX OF VENICE follows workaholic attorney Alex (Elizabeth Winstead) is forced to reinvent her life after her husband (Chris Messina, who also directed th film) suddenly leaves. Now faced with the humdrum and sometimes catastrophic events that permeate the fabric of our lives, Alex discovers both a vulnerability and inner strength she had not yet tapped all while trying to hold together her broken family. We open ALEX OF VENICE this Friday at the Royal.  Actor-director Chris Messina will participate in a Q&A after the 7:45 PM screening on Friday, April 17.
This April 24th we'll be opening the Oscar and Golden Globe nominee for Best Foreign Language film TANGERINES at the Royal, Town Center and Playhouse. Set in 1992, during the growing conflict between Georgia and Abkhazian separatists in the wake of the Soviet Union's dissolution, this compassionate, affecting film focuses on two Estonian immigrant farmers who decide to remain in Georgia long enough to harvest their tangerine crop. When the war comes to their doorsteps, Ivo (played by legendary Estonian actor Lembit Ulfsak) takes in two wounded soldiers from opposite sides. The fighters vow to kill each other when they recover, but their exten
[...]
Last night we were thrilled to host Eva Marie Saint at the Royal Theater for a packed 55th anniversary screening of EXODUS. Here's a shot of her interacting with a fan, autographing the original EXODUS soundtrack on vinyl. Two weeks from now we'll be joined at the Royal by GETTING STRAIGHT star Elliott Gould and director Richard Rush for the film's 45th anniversary screening. As with all of our Anniversary Classics screenings, the Q&A will be moderated by L.A. Film Critics Association President Stephen Farber. The event will be at the Royal on April 15 starting at 7:30 PM. "Never trust anyone over 30!" This mantra of the counter
[...]
On April 10th we'll be opening Rialto Pictures latest restored classic, the 1960 Italian comedy THE PASSIONATE THIEF, at the Royal and Playhouse. The film is set on a Roman New Year's Eve. A struggling actress (Anna Magnani) runs into an old acting acquaintance (Toto), who is helping a professional pickpocket (Ben Gazzara) fleece people during the hustle-bustle of New Year's Eve festivities. They embark on a series of funny adventures all over Rome at different parties, restaurants, and even the Trevi fountain. Based on stories by Alberto Moravia (The Conformist). This digital restoration was carried out by Fondazione Cineteca di Bologna star
[...]