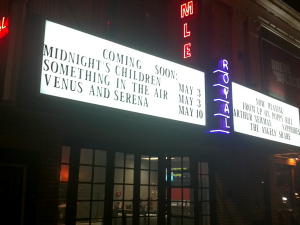 Royal
11523 Santa Monica Blvd.
West L.A., CA 90025
310-478-3836
Set as myTheatre
Get Tickets
Click a
BLUE SHOWTIME
to purchase tickets

106 min. R

100 min. NR

109 min. PG-13
Prolific, pioneering documentary filmmaker Albert Maysles passed away last month. With his late brother David he made such acclaimed films as Grey Gardens and Gimme Shelter. He described himself this way: "As a documentarian I happily place my fate and faith in reality. It is my caretaker, the provider of subjects, themes, experiences – all endowed with the power of truth and the romance of discovery. And the closer I adhere to reality the more honest and authentic my tales. After all, the knowledge of the real world is exactly what we need to better understand and therefore possibly to love one another. It's my way of making the world a bett
[...]
FELIX AND MEIRA is a calling card for its young director, Maxime Giroux; a story of an unconventional romance between two people living vastly different realities mere blocks away from one another. Each lost in their everyday lives, Meira (Hadas Yaron), a Hasidic Jewish wife and mother and Félix (Martin Dubreuil), a secular loner mourning the recent death of his estranged father, unexpectedly meet in a local bakery in Montreal's Mile End district. What starts as an innocent friendship becomes more serious as the two wayward strangers find comfort in one another. As Felix opens Meira's eyes to the world outside of her tight-knit Orthodox commu
[...]
Right to Die laws were back in the news following the November 1, 2014 death of Brittany Maynard.  Maynard was a California resident who moved to Oregon to take advantage of that state's Death With Dignity law.  Since her death, two California State Senators have proposed a similar measure in California. Serving as an entry point to discussing this issue is the hit Israeli comedy (yes, comedy), THE FAREWELL PARTY. Together with Cedars Sinai Medical Center, we are pleased to offer an advance screening of THE FAREWELL PARTY on Tuesday, April 28 at 7:30 PM at the Music Hall Theatre in Beverly Hills.  The screening is part of the Jewish Wis
[...]
ALEX OF VENICE follows workaholic attorney Alex (Elizabeth Winstead) is forced to reinvent her life after her husband (Chris Messina, who also directed th film) suddenly leaves. Now faced with the humdrum and sometimes catastrophic events that permeate the fabric of our lives, Alex discovers both a vulnerability and inner strength she had not yet tapped all while trying to hold together her broken family. We open ALEX OF VENICE this Friday at the Royal.  Actor-director Chris Messina will participate in a Q&A after the 7:45 PM screening on Friday, April 17.
This April 24th we'll be opening the Oscar and Golden Globe nominee for Best Foreign Language film TANGERINES at the Royal, Town Center and Playhouse. Set in 1992, during the growing conflict between Georgia and Abkhazian separatists in the wake of the Soviet Union's dissolution, this compassionate, affecting film focuses on two Estonian immigrant farmers who decide to remain in Georgia long enough to harvest their tangerine crop. When the war comes to their doorsteps, Ivo (played by legendary Estonian actor Lembit Ulfsak) takes in two wounded soldiers from opposite sides. The fighters vow to kill each other when they recover, but their exten
[...]