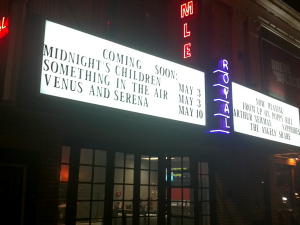 Royal
11523 Santa Monica Blvd.
West L.A., CA 90025
310-478-3836
Set as myTheatre
Get Tickets
Click a
BLUE SHOWTIME
to purchase tickets

150 min. NR

115 min. NR

115 min. NR

95 min. PG-13
The Canter's and Deli Doctor food trucks are coming to the Royal Theatre in West LA in support of the new documentary DELI MAN. That's not all! Several local delis have special deals for diners who bring in their DELI MAN tickets stubs! Greg Laemmle will lead the Sunday Funday Pastrami Pedal Ride on March 1st. DELI MAN opens March 6th in West LA and Encino. Food Truck Schedule 3/6 - Canter's Truck from 6pm - 9pm at the Royal 3/7 - The Deli Doctor from 6pm - 9pm at the Royal 3/8 - Canter's Truck from 4pm - 7pm at the Royal Special Offers from Local Delis (Valid March 6th - 20th Only) Art's Deli: Free fountain drink or coffee
[...]
GETT: THE TRIAL OF VIVIAN AMSALEM co-director Shlomi Elkabetz will participate in a Q&A after the 7 PM screening tonight at the Royal.
The Academy Awards air this Sunday which means entries for our Umpteenth Annual Oscar Contest are due Sunday morning. The person who most accurately predicts the Academy of Motion Picture Arts and Science's choices wins ten pairs of passes, second place wins eight pairs and third place wins six pairs. The best way to up your Oscar game is to see the nominees. Watching THE 2015 OSCAR-NOMINATED SHORTS ANIMATED, DOCUMENTARY, and LIVE ACTION will certainly put you ahead of the pack. Best Foreign Film nominees LEVIATHAN and TIMBUKTU expand to Claremont and NoHo this Friday. IDA is playing in Beverly Hills. Unfortunately, WILD TALES and TANGE
[...]
The hilarious highlight of John Boorman's HOPE AND GLORY (1987), nominated for five Oscars: 9-year-old Bill Rohan rejoices in the destruction of his school by an errant Luftwaffe bomb. QUEEN & COUNTRY picks up the story nearly a decade later as Bill (Boorman's alter-ego) begins basic training in the early Fifties, during the Korean War. Bill (played by a charming Callum Turner) is joined by a trouble-making army mate, Percy (Caleb Landry Jones). They never get near Korea, but engage in a constant battle of wits with the Catch-22-worthy Sgt. Major Bradley -- the brilliant David Thewlis. Richard E. Grant is their superior, the veddy, veddy,
[...]
GETT: THE TRIAL OF VIVIANE AMSALEM follows an Israeli woman (Ronit Elkabetz) seeking to finalize a divorce (gett) from her estranged husband. She finds herself effectively put on trial by her country's religious marriage laws, in this powerhouse courtroom drama from sibling directors Shlomi and Ronit Elkabetz. Israel's Official Entry for the 87th Academy Awards for Best Foreign Language Film and a Golden Globe nominee for Best Foreign Film. GETT: THE TRIAL OF VIVIANE AMSALEM co-director Shlomi Elkabetz will participate in Q&A's at the Royal after the 7 PM screenings on Friday and Saturday, February 13 and 14.