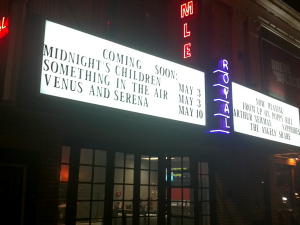 Royal
11523 Santa Monica Blvd.
West L.A., CA 90025
310-478-3836
Set as myTheatre
Get Tickets
Click a
BLUE SHOWTIME
to purchase tickets

99 min. NR

112 min. R

85 min. NR

165 min.
MONK WITH A CAMERA filmmakers Guido Santi and Tina Mascara will participate in Q&A's after the 11 AM screenings at the Royal on Saturday and Sunday, December 20 and 21.
We are very pleased to be screening CITIZENFOUR and FORCE MAJEURE beginning December 24 at the Royal, returning them to regular release.  These films, one a jaw-dropping American documentary about Edward Snowden, the other a Swedish black comedy/psychodrama, are among the year's best.  Both have been bounced around in theatres due to a crowded fall calendar.  If you haven't seen them, or know someone who hasn't seen them, please be sure to send them to the Royal over the holidays.
This coming Christmas Eve (Dec. 24) we will celebrate the 50th Anniversary of the Broadway production with our 7th Annual Fiddler On the Roof Sing-Along! Join us (at any of our venues) for our traditional, yet non-traditional Christmas Eve experience as we sing along with Tevye and the shtetl to iconic favorites like "Tradition", "If I Were a Rich Man", "Matchmaker", "To Life", "Sunrise Sunset" and many others. GET TICKETS to the event before it sells out! In addition to movie and song, the audience will be regaled with Fiddler history and trivia, with prizes being awarded to Fiddler buffs with the quickest recall. In this "a
[...]
The 87th Academy Awards nominations will be announced January 15th but Oscar completionists can get a head start on the Documentary Features category thanks to the Academy's 15-film shortlist and Laemmle Theaters. The Academy's Documentary Branch narrowed the field to 15 from 134 submissions. While we've already screened many films, some are still in theaters, and five will play as morning shows over the next few weeks. By the time nominations are announced, every film on the shortlist will have played at one or more of our theaters... for those keeping track! Weekend morning shows in Claremont, North Hollywood, Pasadena, and West LA: 12
[...]
A animated classic, Paul Grimault's THE KING AND THE MOCKINGBIRD, written by Grimault and legendary poet and screenwriter Jacques Prévert, has been restored and after many decades finally getting a theatrical release in the United States. Based on a Hans Christian Andersen story, this wildly satirical film follows a chimney sweep and shepherdess on the run from a tyrannical king. A masterpiece of traditional hand-drawn cell animation, THE KING AND THE MOCKINGBIRD is credited by celebrated Japanese animators Hayao Miyazaki and Isao Takahata as inspiring the creation of their own studio, the now world-famous Studio Ghibli. Its influence can als
[...]