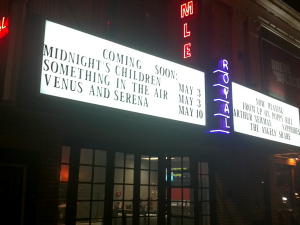 Royal
11523 Santa Monica Blvd.
West L.A., CA 90025
310-478-3836
Set as myTheatre
Get Tickets
Click a
BLUE SHOWTIME
to purchase tickets

111 min. NR

87 min. PG
What's it like to try to get to know a flying dinosaur? In PELICAN DREAMS, Sundance and Emmy Award-winning filmmaker Judy Irving ("The Wild Parrots of Telegraph Hill") follows a wayward California brown pelican from her "arrest" on the Golden Gate Bridge into care at a wildlife rehabilitation facility, and from there explores pelicans' nesting grounds, Pacific coast migration, and survival challenges. Newsweek Magazine just published this piece about the film. It begins, "'A friend of mine was in this traffic jam,' Judy Irving recalls. 'She said, 'You'll never guess why I was held up on the bridge.'' It's not unusual for traffic to come to
[...]
On October 31 we open the Swedish film FORCE MAJEURE, Ruben Östlund's wickedly funny and precisely observed psychodrama about a seemingly model married couple who suddenly find themselves in crisis after the husband does something extremely cowardly and selfish. Written and directed by Östlund (Play, Involuntary), the film was a word-of-mouth sensation at the Cannes Film Festival earlier this year, where it won the Jury Prize in Un Certain Regard. Östlund recently sat for an interview with Indiewire's Ryan Lattanzio to talk about this top contender for the Foreign Language Oscar: Indiewire: What initially interested you about a couple in c
[...]
In 1,000 TIMES GOOD NIGHT, Juliette Binoche plays Rebecca, one of the world's top war photojournalists, capturing dangerous and chilling images in the most dire landscapes, all in an effort to shed light on the real cost of war. But she's also a wife and mother, leaving behind a husband and two young daughters every time she travels to a new combat zone. After a near-death experience chronicling the ritual of a female suicide bomber, husband Marcus (Nikolaj Coster-Waldau) levels an ultimatum: give up the dangerous profession or lose her family. 1,000 TIMES GOOD NIGHT director of photography John Christian Rosenlund will participate in a Q&
[...]
AWAKE: THE LIFE OF YOGANANDA is an unconventional biography about the Hindu Swami who brought yoga and meditation to the West in the 1920s. Paramahansa Yogananda authored the spiritual classic "Autobiography of a Yogi," which has sold millions of copies worldwide and is a go-to book for seekers, philosophers and yoga enthusiasts today. By personalizing his own quest for enlightenment and sharing his struggles along the path, Yogananda made ancient Vedic teachings accessible to a modern audience. AWAKE: THE LIFE OF YOGANANDA co-director Lisa Leeman will be at the Royal this weekend to participate in Q&A's after the Saturday and Sunday m
[...]
WATCHERS OF THE SKY producer Amelia Green-Dove will participate in Q&A's at the Royal after the 7 PM screenings on Saturday, October 18 and Monday, October 20, and after the 1 and 4 PM screenings on Sunday, October 19. She'll do the same after the 7 PM screening at the Town Center 5 in Encino on Tuesday, October 21.