One of the rare first-rate translations of a musical to film.
--Charles Isherwood, New York Times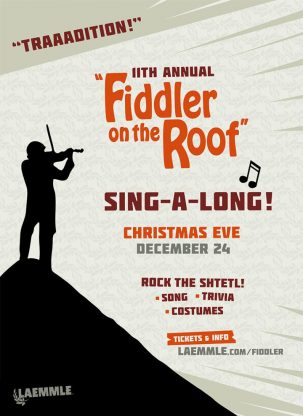 Spread the word about this film!
COMING SOON OPENS IN 13 DAYS, DECEMBER 24
Sing-Along Fiddler on the Roof


JOIN US SUNDAY DEC. 24th for an alternative Christmas Eve. That's right - It's time for our 10th Annual, anything-goes Fiddler On the Roof Sing-a-Long!

Belt out your holiday spirit … or your holiday frustrations. Either way, you'll feel better as you croon along to all-time favorites like "TRADITION," "IF I WERE A RICH MAN," "TO LIFE," "SUNRISE SUNSET," "DO YOU LOVE ME?" and "ANATEVKA," among many others.

The evening includes trivia, prizes, and by all means -- we encourage you to come in costume! Guaranteed fun for all. Children are welcome (Fiddler is rated "G") though some themes may be challenging for young children.

Prices this year start at $18 for General Admission with discounts for students and seniors ($15), and Premiere Card holders ($15 / $12). Typically, Fiddler sells out … so don't miss the buggy!

ABOUT THE FILM:
Originally based on Sholem Aleichem's short story "Tevye and His Daughters," Norman Jewison's adaptation of the long-running Broadway musical is set in a Russian village at the beginning of the twentieth century. Israeli actor Topol repeats his legendary London stage performance as Tevye the milkman, whose equilibrium is constantly being challenged by his poverty, the prejudice of non-Jews, and the romantic entanglements of his five daughters.

Runtime: 179 min
Language: English

Director: Norman Jewison
Cast: Leonard Frey, Molly Picon, Norma Crane, Topol
Get Tickets
Click a
BLUE SHOWTIME
to purchase tickets
RED SHOWTIMES
are Sold Out
Note:
There were no showtimes for Mon, Dec 11th, so instead we're showing you showtimes for the next available date on Sun, Dec 24th.
Royal
One Day Only!
11523 Santa Monica Blvd.
NoHo 7
One Day Only!
5240 Lankershim Blvd.