Laemmle Theatres and the Anniversary Classics series present two of the less frequently revived films from the Master of Suspense Alfred Hitchcock: a 75th anniversary screening of the World War II-era thriller,
SABOTEUR
, and a 45th anniversary screening of one of his final films,
FRENZY
. See two films for the price of one on June 6th at the Ahrya Fine Arts, NoHo 7, and Pasadena Playhouse 7. Presented on DCP.
Click here to buy tickets to the 5pm show of SABOTEUR, admission to the 7:20pm FRENZY is included. Click here to get tickets to the 7:20pm show of FRENZY, admission to the 9:45pm SABOTEUR is included.
Both films are variations on one of Hitchcock's favorite themes, that of the wrong man in jeopardy—a story that he first explored in one of his early British classics, The 39 Steps, and that he reworked in such American films as Spellbound, Strangers on a Train, and North by Northwest.
In Saboteur Robert Cummings plays a munitions factory worker suspected of setting a destructive industrial fire and forced to go on the lam to prove his innocence. The tart and witty screenplay was penned by Peter Viertel, Joan Harrison, and Dorothy Parker and centers on a conspiracy by a group of softspoken but sinister American Fascists. The Statue of Liberty finale is one of Hitchcock's memorable set pieces. Priscilla Lane, Otto Kruger, and Norman Lloyd costar. The New York Times called it "a swift, high-tension film."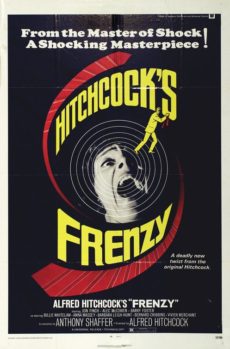 In Frenzy, Hitchcock filmed in his native England for the first time in more than two decades. Jon Finch plays the innocent man accused of a series of grisly murders by the notorious "Necktie Strangler." British actors Barry Foster, Anna Massey, Billie Whitelaw, Alec McCowen, and Vivien Merchant costar. This thriller was written by acclaimed playwright Anthony Shaffer (Sleuth) and received the best reviews of Hitchcock's late career. Roger Ebert noted that "Frenzy is a return to old forms for the master of suspense," and Leonard Maltin declared, "All classic Hitchcock elements are here, including delicious black humor, several astounding camera shots."