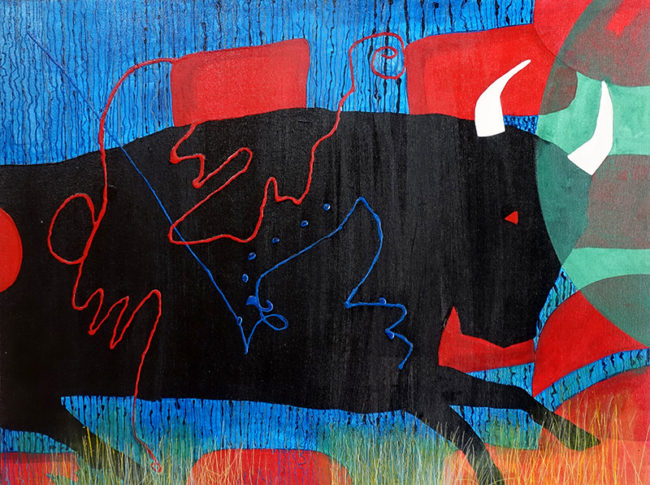 If you haven't done so yet, next Tuesday, April 25 will be a good time to catch RUNNING WITH THE BULLS, Art in the Arthouse's recent exhibit at the NoHo 7 featuring the works of FRANCISCO ALVARADO.  That's because we'll be having a "late-show celebration" Tuesday, April 25 from 7-9pm, featuring a slide show, artist talk, and of course, the usual food and beverage treats AAH is known for.
Drawing inspiration from nature and his travels, Alvarado creates powerful works utilizing a fascinating process that combines technology and hands-on manipulation of acrylic paint, mixed media and digital imaging.  Curated by Joshua Elias, the exhibit runs through early May at the NoHo 7.
Join us for the a late show celebration:
Laemmle NoHo 7 Tuesday, April 25, 7-9pm
RSVP HERE
About the Exhibit: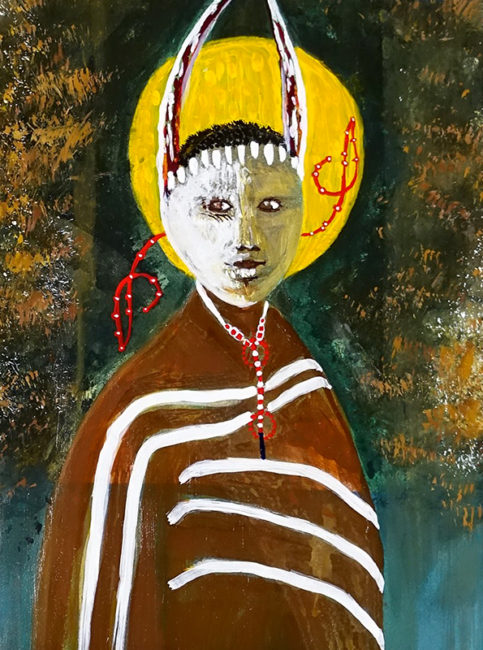 Painting with refined Matisse-like cutout shapes, Francisco Alvarado, has a propensity towards creating movement. Overlaying forms are charged with passionate, vibrant colors that evoke the volcanic fields in his native Ecuador. Inspired from loss, a ditch of emotion wells up in his art, focused, patiently rendered, evoking a wistful empathy. Alvarado moved from Ecuador to Glendale, CA in 1969. Psychedelic 60s painter Peter Max influenced young Francisco greatly. With Heinz Edelman's animation in the Beatles' film the "Yellow Submarine," animation as a gateway to fine art began to percolate. Inspired by the emergence of Apple Computers, he enrolled at Long Beach State to study engineering. He threw himself into the brave new world of coding and digital imaging, ultimately leading to artistic experimentation with mixed media. When mentor Quinton Bemiller introduced him to abstract painting, Alvarado's work took new turns, filled with vivacity and freedom and influenced by luminaries such as Picasso, Hockney, and Matta. As a mature artist, Alvarado has connected to life and painting in a fuller sense, resulting in the stunning new works currently on display.
-
Joshua Elias, Curator