An unmissable film, made with a delirious compassion.
--Dave Kehr, Chicago Reader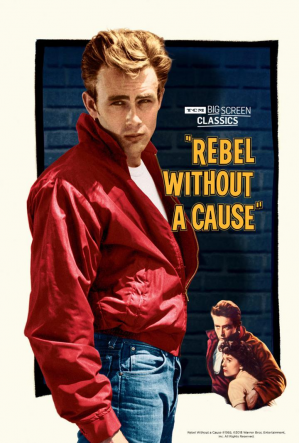 Spread the word about this film!
COMING SOON OPENS TOMORROW! SUNDAY SEP. 23
Rebel Without a Cause
Part of the TCM Big Screen Classics series.
Click here for more screenings in this series.
REBEL WITHOUT A CAUSE (1955)
Sunday, September 23rd, at 7PM and Wednesday, September 26th, at 2PM


In one of American cinema's most influential roles, James Dean is Jim, the new kid in town whose loneliness, frustration and anger mirrored those of postwar teens -- and reverberates over 60 years later. This two-day event includes exclusive insight from Turner Classic Movies.

Runtime: 111 min
Language: English

Director: Nicholas Ray
Cast: Natalie Wood, Sal Mineo
Get Tickets
Click a
BLUE SHOWTIME
to purchase tickets
Note:
There were no showtimes for Sat, Sep 22nd, so instead we're showing you showtimes for the next available date on Sun, Sep 23rd.