This Just In...
FRANK AND AVA filmmaker and star Rico Simonini will participate in a Q&A following 10:00 am show on Saturday, 12/8 and after the 9:55 pm show on Wednesday, 12/12 at the Town Center.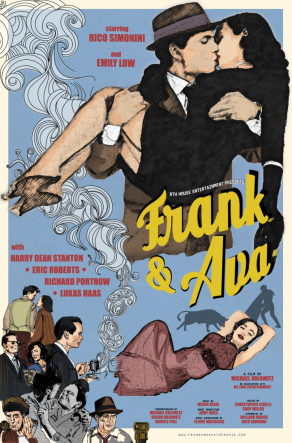 Spread the word about this film!
Last Chance! Thu. Dec 13
Frank and Ava
The tumultuous, bourbon-stained, sexually-charged Hollywood romance between a down-and-out Frank Sinatra and MGM's mercurial, sultry siren, Ava Gardner, who he pursues at all costs while desperately trying to resurrect his career by getting cast as Angelo Maggio in Columbia Picture's "From Here to Eternity." An acknowledged long shot, Sinatra campaigns for the role while divorcing his wife, Nancy, and entering a passionate but suspicion-filled marriage with Gardner that is marked by infidelities, Ava's abortions and Frank's suicide attempts as their hapless romance is parodied by the press, who play them off each other.

Runtime: 110 min
Language: English
Get Tickets
Click a
BLUE SHOWTIME
to purchase tickets